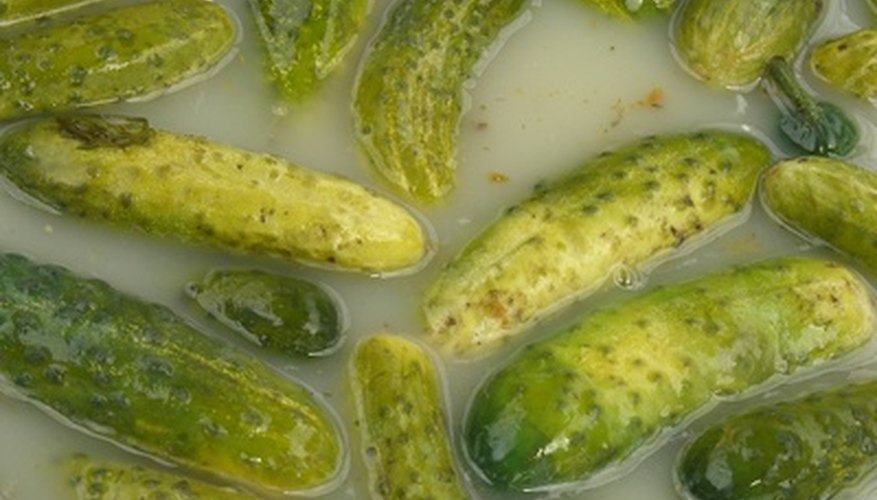 Most seeds of the cucumber (Cucurbitaceae Cucumis sativus) produce long, slender cucumbers that have skins that are thin enough to be eaten without being peeled. While most seeds produce either slicing or pickling cucumbers, there are hybrid and foreign varieties that may interest the home gardener.
Slicing Cucumbers
The most well known slicer, or common cucumber, is the Marketmore series developed by plant scientists at Cornell University. Horticulturalists at Ohio State University recommend Marketmore 80, Dasher II, Poinsett, Straight 8 and Sweet Slice Burpless for slicing. Common cucumbers may sometimes be bitter and can produce stomach gas.
Pickling Cucumbers
The best varieties of cucumbers for pickling are said to be the American dill, cornichon, gherkin, Kirby and the lemon cucumber. The cornichon and gherkin are both smaller than the American dill.
Exotic Cucumbers
The Armenian cucumber (Cucumis melo), sometimes called the serpent or snake cucumber, is actually a type of melon. They must be picked young or their texture deteriorates. The Asian or Japanese cucumber is thin, straight and has a mild flavor. The Beit alpha cucumber, sometimes called a Persian cucumber, is a hybrid developed by Israeli horticulturists for growing in hot weather. They do not need cross pollination. The Amira is one of these hybrid cucumbers.
Dwarf Varieties
There are numerous cucumbers that grow in the shape of a ball on bushes, some of them are dwarf varieties developed for container gardens. The University of Illinois recommends the bush crop cucumber that produces 6 to 8-inch cucumber on dwarf bushes. The salad bush variety produces 8-inch cucumbers on compact bushes. The bush pickle cucumber is good for growing in containers. The Poona Kheera is a hybrid that grows on small bushes and produces ball-shaped cucumbers recommended for their excellent taste.
Gynoecious Cucumbers
Many seed companies and garden catalogues tout "gynoecious" hybrid cucumbers. These yield only female flowers and so give early, high yields of cucumbers. But they still need pollinators, so the packages of gynoecious seeds contain seeds of a standard cucumber needed for pollination.
Burpless Cucumbers
English cucumbers, also known as burpless cucumbers, are said not produce stomach gas in the usual amounts. They are curved cucumbers and grow from 10 to 12 inches. They are better for slicing or for use in salads, not for pickling.
Collecting Seeds
Do not collect seeds for planting from cucumbers that are at the eating stage. These seeds are not ripe and will not germinate. Let the cucumbers mature fully before you collect the seeds. Collect cucumbers for seed at the end of the growing season.