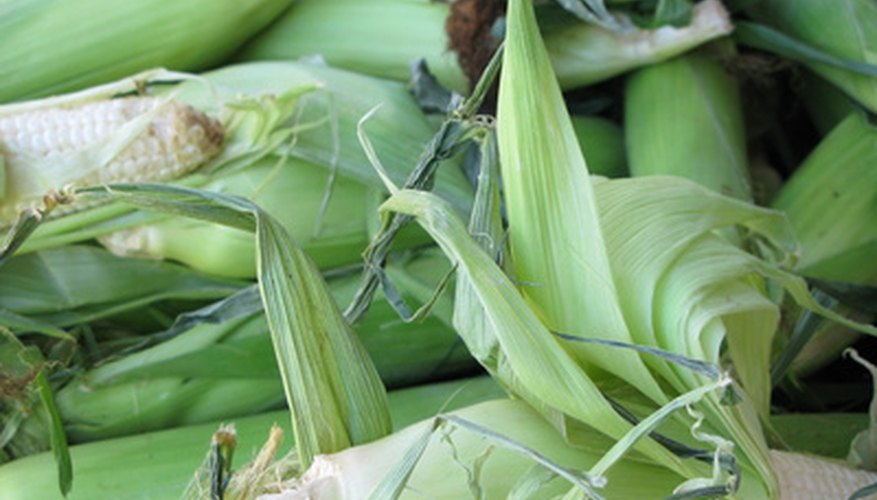 Corn can benefit greatly from proper fertilization. By using early fertilization techniques in addition to the more common growing season fertilization, you can help to ensure optimal health and productivity for your garden corn. By understanding your corn's nutritional needs, you can make better choices of fertilizer types and times.
Starter Fertilization
In the spring, cool air and soil can slow corn plant growth and cause plants to turn purple. This is generally caused by the plants' roots growing too slowly to reach the soil's phosphorous reserves. To apply starter fertilizer, mix a higher nitrogen and phosphorous fertilizer, like a 10-34-0, with the soil around the seed. Do not place the fertilizer in the hole or in a place where it may come into contact with the new plant.
Nitrogen Requirements
Corn does best with additional nitrogen throughout the growing season. Place 1/2 pounds of 34-0-0 fertilizer per 100 square feet of garden along the sides of the plants when each plant has eight to 10 leaves. Add an additional 1/4 pound of 34-0-0 when the first silks appear. Place the fertilizer 6 inches to the side of the plant, and water in.
Organic Fertilizers
A number of organic fertilizers can give your corn the nitrogen it needs for good growth and production. Fishmeal is a higher nitrogen organic fertilizer that offers between six and 12 percent nitrogen. However, fishmeal may cause your soil to become too acidic. Using a combination of fishmeal and hoof and horn meal, which is 12 to 14 percent nitrogen, can help to balance the pH level of your soil because hoof and horn meal is alkaline.
Native American Fertilization
Corn is native to North America. Native American farmers used a number of natural techniques to balance soil nutrition, including a planting method called three sisters planting. Three sisters planting combines corn, beans and squash in a single planting, to allow the three plants to thrive. In addition, some farmers would add a dead fish to the hole with the corn, bean and squash seeds.
Considerations
When adding fertilizer, be sure to follow the manufacturer's instructions. If you are using chemical fertilizers, it may be easy to over fertilize. Over fertilization can burn young corn plants and can cause runoff that can adversely affect streams, lakes, and other waterways. When using organic fertilizers, some organic fertilizers can increase soil salinity. By following the package instructions, you can avoid increasing salt levels in your soil.