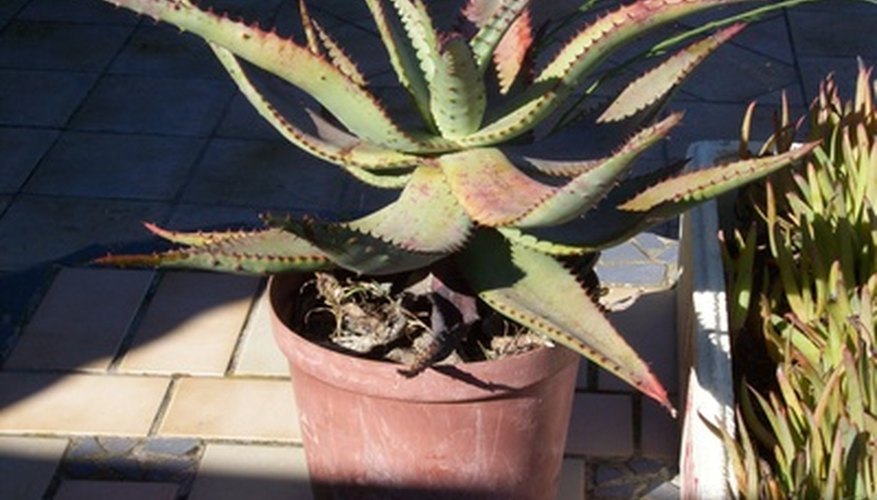 Aloe vera grows best in USDA zones 8 through 11 across the United States. Depending on the variety, the plant can remain quite small, only a few inches tall, to an aloe tree, which can grow to 50 feet tall. Each aloe vera plant offers its own distinct blooms, with blooming periods ranging from winter to the summer months. Aloe vera prefers a sandy soil that is well-drained.
Aloe Arborescens
Aloe Arborescens grows well in USDA zones 9 to 11. Thriving with an average temperature of 50 degrees F, this aloe variety does not tolerate frost temperatures below 25 degrees F well. It prefers a light shade to full sun area and will transform into a large shrub or small tree. It can reach heights of up to 16 feet. Aloe arborescens blooms a red or yellow flower in late fall or early winter.
Aloe Aristata
Aloe Aristata is a hardy plant that can tolerate frosting temperatures well. It grows in a clump of rosettes that are 4 to 6 inches in diameter. The aloe aristata prefers regular water in the summer during its growing season but will become dormant in the winter. It is easily subjected to root rot if overwatered, so winter care is sparse. The cuttings of this plant can be replanted to propagate, and it grows well as an indoor plant. The blooms of the aloe aristata are red 1-inch flowers that display in late spring.
Aloe Bakeri
Aloe Bakeri originated in Madagascar. This hardy plant will grow best in USDA zones 9B to 11. It is very drought-resistant and needs very little frost protection. The aloe bakeri will thrive in full sun to light shade. With blooms shooting several inches tall, the yellow, tubelike blooms protrude several inches above the plant.
Aloe Brandhammi
Aloe Brandhammi originated in Tanzania. It grows to 4 to 6 inches tall and prefers the light of full sun or a partial shade. It is short, with a hardy stalk base and a very drought-resistant aloe plant. The aloe brandhammi is frost-resistant and prefers an average temperature of 50 degrees F.