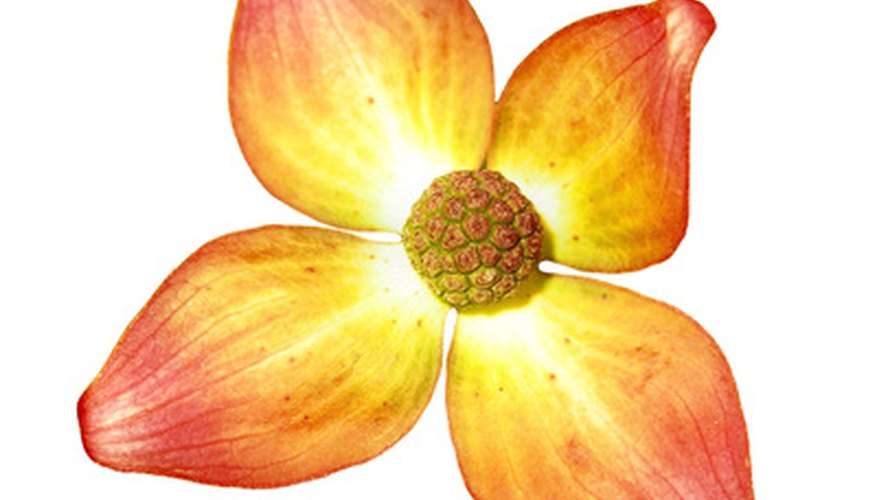 Dogwood is a flowering tree found in the under-canopy of many forests in the United States. The tree produces white flowers in spring and red foliage and berries in fall. Although the trees grow wild in many woodland areas, they do not transplant well into the home landscape. Wild dogwoods have an asymmetrical root and limb structure that is not as pleasing to the eye as a nursery grown dogwood tree. Instead, consider purchasing a dogwood from a nursery.
Select a local nursery to purchase your dogwood from so that you will be able to examine the tree in person. Most nurseries, including large chain garden centers, carry dogwoods during the best time to plant the tree, which is usually in spring.
Ask the clerk at the nursery what varieties of dogwood they carry to determine if it is suitable for your landscape. Oriental dogwood such as Kousa dogwood adapt to full sun and drought conditions better than North American varieties such as Pagoda dogwood.
Look over the trunk for signs of damage such as scraped bark or sunscald, insect injuries or incorrect pruning. You should also examine a tree's trunk for cracks that can lead to branches falling from the tree. Avoid buying trees with these signs.
Partially unwrap a tree with roots wrapped in burlap to determine if the root structure of the dogwood tree is well developed. Examine the trunk beneath the burlap for signs of damage. Most nurseries carry dogwoods with their root balls wrapped in burlap rather than growing them in containers.
Examine the tree's structure. Avoid purchasing trees with broken branches that are a sign of poor handling. Also avoid purchasing a dogwood with asymmetrical development, V-shaped forks in the branches or branches that rub, grow inward or cross through the tree's canopy.
Pick a leaf from the tree and look it over. If the leaf appears wilted, discolored or spotted, you should not buy the tree.