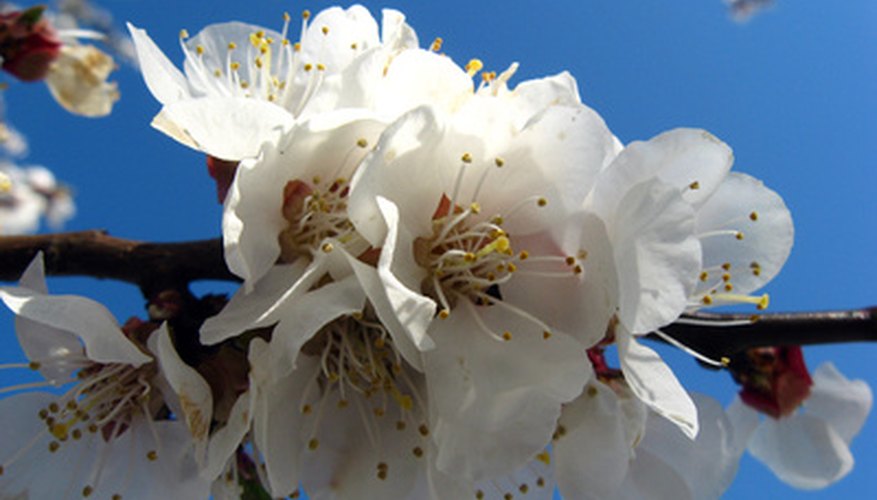 Colorful landscape trees can enhance your home's exterior. The front yard should reflect the owner's style and create a welcoming feel, as it gives guests and neighbors their first impressions of the home. Before planting trees in the front yard, research their maximum height and width to be sure there is adequate space in the yard.
Japanese Apricot
Japanese apricot (Prunus mume) is a deciduous tree with a rapid growth rate and medium texture. Japanese apricot trees grow 10 to 20 feet tall and have stunning flowers that will light up a front yard with color. Ranging from single to double, the fragrant flower heads grow in red, white or pink and emerge in late winter to early spring. Japanese apricot trees have alternate leaves that grow 2 to 4 inches long. The tree's upright shape is rounded and dense. Japanese apricot trees require full sun to partial shade and well-drained soil. Plant them in USDA zones 6 to 9.
Fire Cherry
Fire cherry (Prunus pensylvanica), also called a pin cherry, is a rapidly growing deciduous tree dripping with blooms. Fire cherry trees grow 25 to 40 feet tall and make for a stunning specimen plant in the front yard. The tree has a rounded, open crown and horizontal branches that hold the bright blooms. White clustering flowers emerge in spring to bring an ethereal feel to the front yard. In the summer, the fire cherry bears light red fruit that adds brilliant color to the landscape. The trees require full sun only, and grow in a wide range of soil types. Fire cherry trees do not tolerate shade. They will grow in USDA zones 3 to 7.
Eastern Redbud
Eastern redbud (Cercis canadensis) is a deciduous tree that grows 20 to 30 feet tall with a 25- to 35-foot wide crown. The tree can add a commanding landscape presence in the front yard. Eastern redbuds have a moderate growth rate and medium to coarse texture. Their flat-topped to open, rounded crown is dense to hold the zigzagging branches. Eastern redbud trees are drought-tolerant. The red to purple pea-like flower clusters grow along the gray to brown stem for a showy display. The heart-shaped leaves on eastern redbuds grow 3 to 5 inches long and cast a yellow tinge in fall. Eastern redbud trees require full sun to part shade and moist, well-drained soil. They tolerate a wide range of soil types. Plant them in USDA zones 4 to 9.