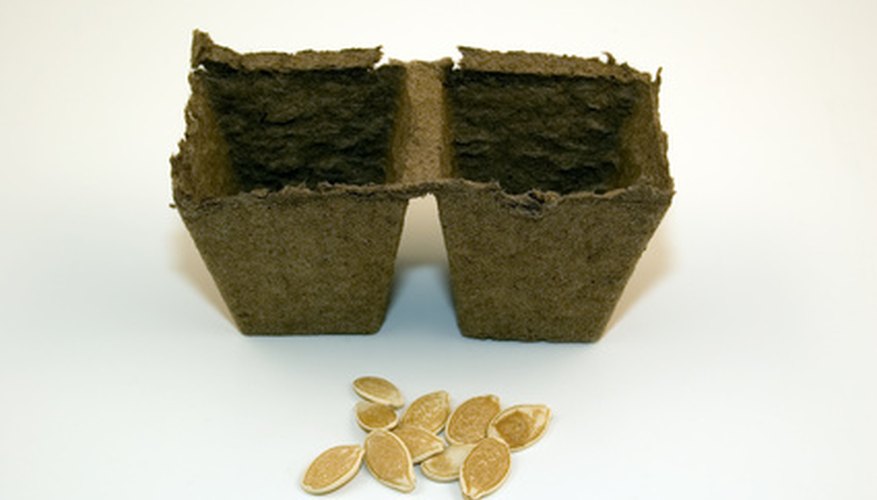 While most any container that has a few holes in the bottom can be used to start seeds for the garden, one of the favorites of longtime gardeners is the use of peat pots. Peat pots, which are made of compressed peat and formed most often into square pots, are available as single units or in single or double strips containing multiple pots. They can be purchased inexpensively in the spring from local garden stores and plant nurseries or through seed catalogs.
Fill each peat pot 3/4 full of quality potting soil.
Place the peat pots into a planting tray or flat-bottomed, shallow baking ban to keep them upright.
Water the pots until the soil and peat pot are moist to the touch.
Place the desired seed on the top of the moist soil in the pot. Plant smaller seeds two to three per pot and larger seeds, such as pumpkin or squash, one per pot.
Place 1/4 inch of potting soil over the seeds in the pots.
Place a layer of plastic wrap over the pots in the tray to function as a type of mini greenhouse and encourage seed germination.
Remove the plastic wrap when the seedlings break through the soil. Water the pots as necessary to keep the soil damp.
Allow the plants to grow in the pots until time to transplant in the garden. Thin pots with more than one plant to the single strongest, healthiest plant.
Transplant the pots into the prepared garden spot. Pinch or cut off any portion of the peat pot that extends above the level of the soil inside before planting.