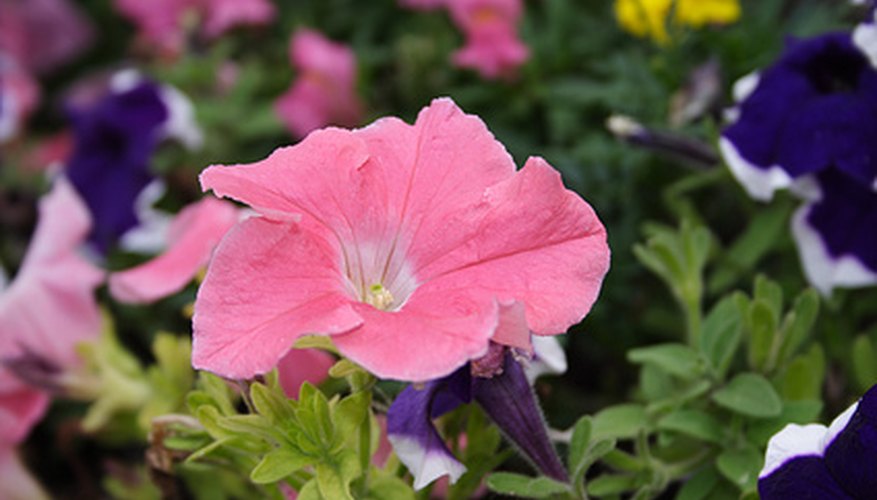 Petunias are hardy annual flowers available in a rainbow of colors. Grandiflora petunias grow 8 to 12 inches tall with wavy-edged flowers. Multiflora petunias have small, single blossoms on compact stems. Milliflora petunias produce tiny flowers that are only 1 inch across. Cascade petunias produce spreading 18-inch long stems that grow well in hanging baskets. The best varieties of petunias are available by seeds. In cold climates, plant the petunias seeds indoors to protect the seeds from the weather and get a head start on the growing season.
Wash a shallow seed tray with soapy water. Rinse the container with one part bleach and nine parts water. Starting petunia seeds indoors is done four to six weeks before the last spring frost date.
Fill the seed tray with a seed starter soil mixture. Create you own starter soil by mixing together four parts peat moss, two parts perlite and two parts vermiculite. This creates a lightweight, good-draining soil mixture where the seedlings can develop strong roots.
Spread the petunia seeds across the soil in the seed tray. Do not cover the seeds with soil since they need exposure to light to germinate. Spray the seed tray with a fine mist of water until the soil is wet.
Cover the seed tray with plastic wrap to form a miniature greenhouse. This produces high humidity and prevents the soil from drying out. Place the seed tray in a warm area located in bright indirect light. Under ideal conditions, the seeds will sprout in three to four days.
Remove the plastic wrap when most of the seeds have emerged. Allow the soil to dry out slightly between waterings. Spray with room temperature water as the seedlings grow.
Transplant the petunia seedlings to small, individual pots when the plants have grown two leaves in about 14 to 21 days. Use the seed starter soil mixture in the small plant pots.
Things You Will Need
Seed tray

Soap

Water

Bleach

Peat moss

Perlite

Vermiculite

Petunia seeds

Spray bottle

Plastic wrap

Small plant pots
Tip
Pinch off dying blossoms to keep your petunias blossoming all summer long. Occasionally, trim the plants back to only 2 to 3 inches tall to keep the petunia plants compact.
Warning
Plant the petunia seedlings outside after all danger of a spring frost has passed and the soil temperature has warmed up to 60 degrees Fahrenheit. Avoid disturbing the roots and soil of the seedlings when transplanting. Place the petunias in the ground at the same depth that they are growing at in their containers.
References