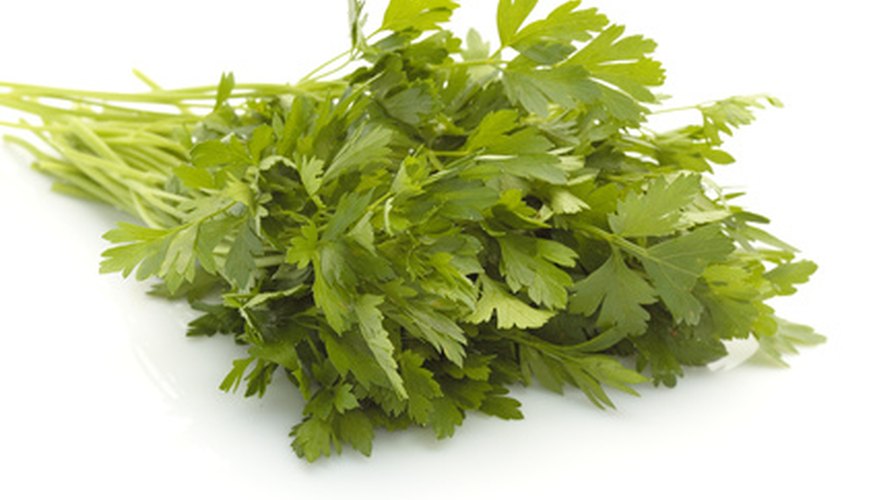 Growing and selling fresh cut herbs can turn a hobby into a money-generating business. Growing herbs as a business can be rather labor-intense, so it is important that you enjoy gardening chores, and select herbs you like to grow. Equally important for success and less stress in your fresh-cut herb enterprise is to start small, expanding only after you have discovered your niche and have your growing and harvesting system mastered.
Where and What Herbs to Sell
Conduct market research to determine where, or to whom, you plan to sell your cut herbs. Remember, you are starting on a small scale, so you may want to start by only selling to family and friends. Expand to selling your herbs at local farmer's markets; high-end, locally-owned restaurants; or specialty grocery stores. By starting small, and talking with people, you will discover which herbs are popular, or which herbs are in short supply. This information will help you decide what herbs to cultivate in your garden for your business.
Check with your local and state government to see if there are licenses or permits you will need. Many states require a grower's permit in order to sell produce from your garden. Your local agriculture commissioner or cooperative extension should have information on what is required to sell fresh-cut herbs.
Print business cards and self-adhering stickers, for your herb plastic bags, to promote your cut herb business. Both should include your business name and contact information. You are now a business and should conduct yourself as such. Passing out your business card at opportune times, and having labels on the plastic bags you sell your herbs in, will promote your herbs and bring in new and returning customers.
Keep good records of costs and expenses, plus the money you earn. Many of your tools, gasoline, vehicle wear and garden materials can be tax-deductible. You should also declare the additional income you will get from selling your cut herbs on your tax returns.
How to Grow Herbs for Sale
Designate a specific area of your garden for your herbs. You should have a separate area for your perennial herbs, and one for your annual herbs. The annual herb garden may need to be larger, depending on the herbs you grow, because you may want to stagger your plantings, planting your annual herbs every two weeks so you have an ongoing harvest and supply.
Use black plastic or mulch on the ground around your herb plants to keep weeds down. One of the most time-consuming chores for herb growers is weeding and keeping weeds out of their herb garden. Black plastic or mulch will significantly reduce the amount of weeds in your garden.
Harvest your herbs the morning of the day you intend to sell them. The fresher your herbs are when you sell them, the better they will be for your customer. Cutting them in the early morning, when the plants are fully hydrated, will keep them fresher longer.
Whether you plan to sell your herbs by weight or not, your bundles of fresh cut herbs should be fairly uniform. To do this, use a kitchen scale to weigh each bundle before you tie the bundle with a wire tie. When a customer buys a bundle, or two, from you, place the herbs in one of the plastic bags to which you have already your business label.
Consider expanding your herb garden as your business increases and grows.