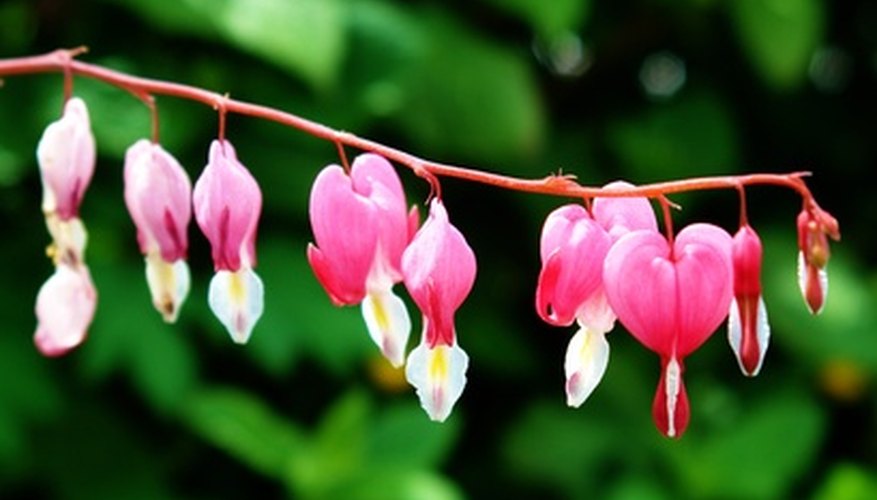 All plants, no matter if they are native species or varieties that are exotic to a particular region, must contend with wildlife. Deer, in particular, often feast upon treasured flowers, causing many a gardener grief. According to Rutgers University New Jersey Agricultural Experiment Station, there are no plants that are deer proof, but certain flowering types are less palatable to deer.
Bleeding Hearts
These perennials have heart-shaped flowers that are usually bright pink or white, dangle from arching stems and bloom in the spring; some plants growing in cooler climates have been known to re-bloom throughout the summer. They grow best in cool, moist conditions. Plant them in gardens with rich, well-drained soil and in light to medium shade. Water them 1 inch weekly during dry times, apply a thin later of compost in the spring and mulch around plant's base to help retain soil moisture. Cut the stems back to within 1 or 2 inches of the ground after the first hard frost.
Butterfly Bush
Attract butterflies instead of deer by cultivating a butterfly bush. Certain varieties of this shrub can grow up to 12 feet tall, although many reach up to 5 feet tall. Their small flowers clustered in cone shapes at the ends of stems come in hues ranging from deep blue to magenta. They are hardy to USDA zones 5 through 10, and will die back in frosty climates. Plant these bushes in full sun or part shade and in well-drained soil. Once established, they tolerate dry conditions.
Daffodils
Daffodils flower from bulbs in the spring and include yellow or white blooms, some varieties of which have orange centers. Plant the bulbs in the fall in a well-drained, sunny space. Place them at least 12 inches apart and bury them twice as deep as their length. Trim the yellowing foliage after the blooms have appeared.
Peonies
Peonies come in hundreds of varieties, many of which have been hybridized by Americans that took an interest in European types and bred them for the most desired attributes. The blooms appear in single, semi-double or double forms. The plants grow up to 4 feet tall. Gardeners enjoy them for their fragrant scents, although there are certain unscented varieties. The flowers bloom in pink, white and red. Plant peonies in a sunny location in well-drained soil. Ensure that the red buds, or eyes, are planted no more than 2 inches below the soil's surface.
Snowdrops
Although there are 75 species of snowdrops, these spring flowers are all white and look like three drops of milk hanging at the tip of each stem. They flower from bulbs in the early spring or in mid- to late-winter, depending on the climate. Plant the bulbs in the autumn in an area that receives full sun and has rich, well-drained soil. Make sure the soil is loosened to about 8 inches deep.