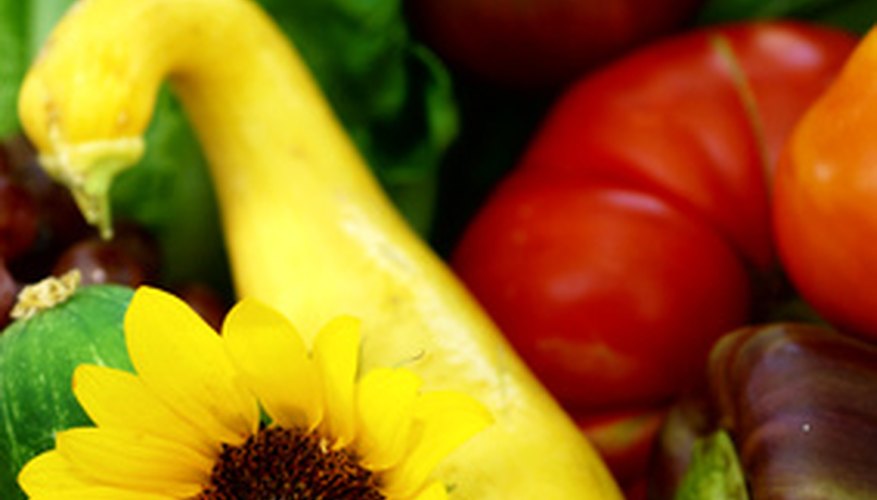 Basket of Garden Vegetables image by Karin Lau from Fotolia.com
Fertilizer is an essential element for growing and maintaining successful plants. Fertilizers encourage plant growth by providing amendments to the soil via nutrients such as phosphorus, nitrogen, potassium and various other "macronutrients." For those trying to keep a vegetable garden healthy, there are certain types of fertilizers that are ideal.
Osmocote Flower and Vegetable Smart Release
Osmocote Flower and Vegetable Smart Release is a slow-release and granular fertilizer that is suitable for vegetables. The plant food is manufactured by The Scotts Miracle-Gro Company. The multinutritional fertilizer is ideal for garden vegetables, and also for berries, melons, tomatoes, perennials and annuals. The fertilizer should be applied approximately every four months.
All-Purpose Flower and Vegetable
All-Purpose Flower and Vegetable is another vegetable fertilizer that is produced by Scotts. The affordable, all-purpose plant food is a slow-release nitrogen fertilizer that is quick and easy to apply. The fertilizer must simply be sprinkled, directly out of the bag, right over the soil. The fertilizer aims to provide higher quality vegetables and high yields. The formula defends against the burning of plants, and also ensures a constant supply of nutrients going into the soil.
Slow-Release All-Purpose Fertilizer
Slow-Release All-Purpose Fertilizer is a 100-percent organic product from the Gardener's Supply Company. The granular fertilizer consists of absolutely no potentially harmful chemicals that could be damaging to any vegetables. It offers balanced nutrients to plants to ensure healthy and strong growth of the roots. It also works to condition the soil by enhancing the water penetration for the entire season. The vegetable fertilizer is comprised of naturally occurring minerals, vegetable or animal meal and peanut meal, and does not burn roots.