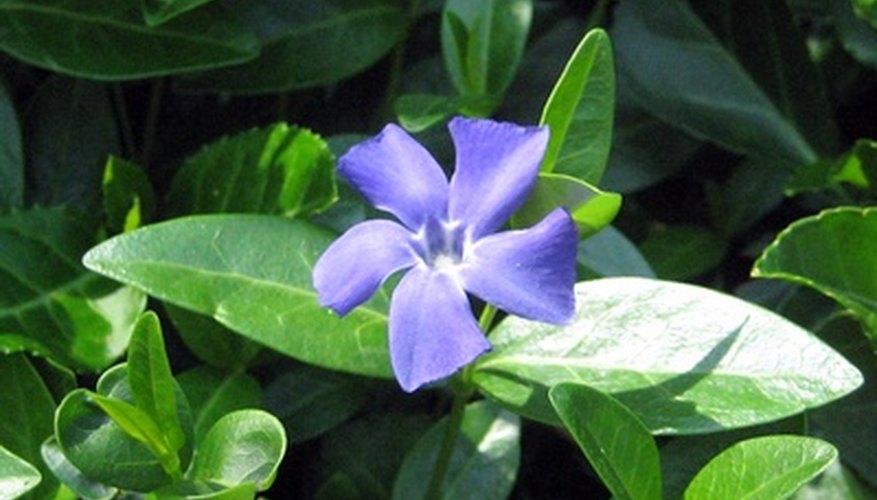 Vinca Minor, or periwinkle, is a trailing groundcover plant that's native to Europe and Western Asia. It has small, pinwheel white to blue-purple flowers and grows in shady areas, but it can tolerate partial sun. It's adaptable to various soil types and can withstand droughts after it has become established. You can expect your Vinca to begin blooming in early spring and continue through summer. It's a good choice for shady areas under trees where few other flowering plants will survive.
Fertilizing Vinca Minor
Plant your Vinca in a shady area with moist soil, or choose a container or hanging basket filled with standard potting soil.
Dig a controlled-release fertilizer into the soil before you plant your Vinca if you want to avoid fertilizing this plant later in the season. Also, spread a 1-inch layer of compost on top of the soil in the planting area and then turn it under to a depth of about 6 inches.
Transplant bedding plants on a cloudy, cool day in spring, after your final frost, to prevent transplant shock. Set plants into small planting holes, 8 to 12 inches apart, or 6 to 8 inches if you want to cover an area more quickly. Do not plant your Vinca deeper than it was planted in its nursery pot. Water well from below after you plant, taking care not to get the foliage wet.
Fertilize with a granular or water-soluble plant food having low nitrogen content to create the maximum number of blossoms. Follow label instructions and feed your Vinca once a month beginning in spring and continuing until midsummer. You should not fertilize after that time, according to the Web site The Backyard Gardener, because doing so can stimulate fresh growth that can be damaged when frost arrives.
Things You Will Need
Compost

Shovel

Trowel

Controlled release fertilizer

Granular or water soluble fertilizer
Tips
Vinca is available as a bedding plant at most nurseries.

A plant food with an N-P-K ratio of 0-10-10 or 5-10-10 is appropriate for Vinca minor.
References