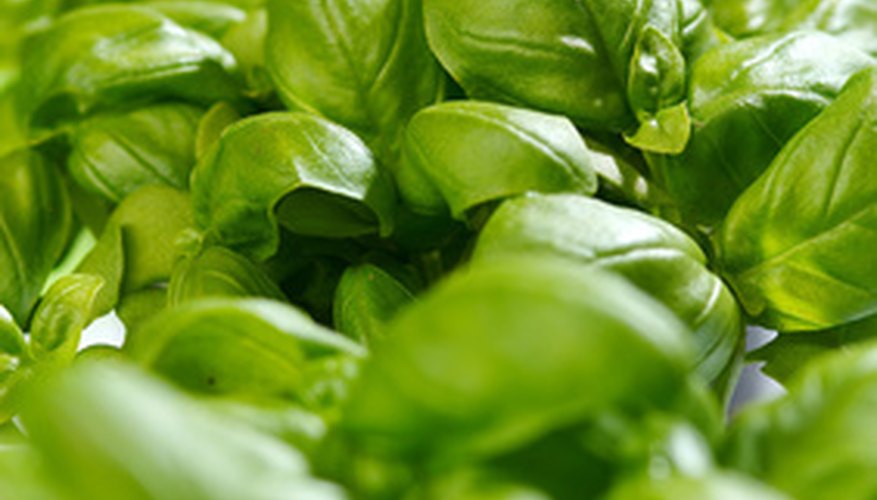 Grow a small amount, only a couple plants of each, of any herb you wish to use. Mix herbs in with a current garden or prepare a small herb garden area. It only takes a couple plants of each herb to provide enough for a family for a year. The West Virginia University Extension service recommends growing winter savory, rosemary, sage, basil, dill, mint, sweet marjoram, tarragon, thyme, chives, parsley and summer savory in a beginner's herb garden. Keep in mind some herbs will come back every year (perennials) or may require replanting every year (annuals).
Select a sunny, well-drained spot in the yard for your herb garden.
Till the soil to prepare it for planting. Use a rototiller or rake to break up the soil. Work to a depth of 8 inches, working until the soil is loose. Remove any rocks or weeds by hand and dispose of in an outdoor trash container.
Shovel 1 to 2 inches of compost on top of the soil. Till to a depth of 8 inches again to thoroughly mix the soil and compost together.
Select herb plants or seeds. Plants are easier to grow than seeds, and more likely to thrive, as seeds may not germinate. Pay special attention to the growth habits and requirements printed on the back of seed packets or seed tags.
Plot your garden on a piece of paper. Place taller herbs in the back of the garden. The shortest herbs go in the front and everything in between goes in the middle. Space the herbs on the piece of paper according to each herb's spacing requirements. Give herbs plenty of space to spread out, as many of them will.
Plant your herbs. Dig a hole for each plant or group of seeds. For plants, dig a hole deep and wide enough to fit the roots of each plant. Pack the soil firmly over the roots and base of the plant. For seeds, poke a small hole in the dirt with your finger, place two to three seeds in the hole and place soil back over the hole.
Water the soil around each plant daily until moist. Skip watering on days it rains or when the soil already appears moist.
Harvest the leaves of herbs throughout the growing season. Use in culinary dishes or allow to dry for longer storage.