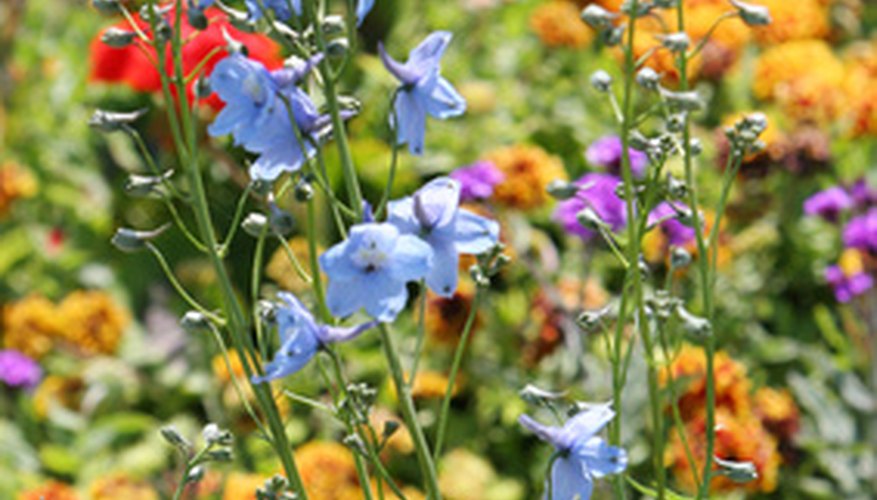 Seeds--just like the flowers they grow into--are as varied as the colors of the rainbow. Many seeds require coverage with a fine layer of soil. Some, such as petunia seeds, need light to germinate and only require being scattered on the soil. Others, like nasturtium seeds, must be scraped with a nail file before planting. Always follow the instructions on the seed packets for best results. No matter what variety of flower seeds you plant, learn a few basic steps to ensure the best results.
Cut straight down into your garden bed away from organic debris such as dead plants or leaves with a hand trowel. Get a sample of soil about 3 inches deep and place it in a clean plastic container.
Take the sample to your local cooperative extension office or full-service garden center for a soil test. The test will provide your soil's pH balance and any soil deficiencies. Purchase any amendments such as sand, compost, peat moss, manure or fertilizer as suggested to bring your soil to the loose, rich consistency that's best for flower gardening.
Work all recommended amendments into the soil, turning it over and mixing in with a spade at least 6 inches deep.
Map out your design plan with twine, positioning taller-growing seeds towards the back of gardens bordering walls or fences, or in the middle for non-border gardens. Create visual "sections" in the soil with twine to see where each type of seed belongs. Simply lay pieces of twine down in your desired grid or design.
Plant each individual type of seed as required on the packaging in its desired location. Use seeds grown by a reputable dealer that are packaged for that growing season and do not throw away packaging. Keep the envelope packaging to reference information like the amount of time until germination or any pertinent information such as thinning out emerging seedlings. Follow instructions exactly, for best results. Water with a light sprayer or watering can and keep area moist but not soggy until seedlings emerge.
Write the name of each type of flower on a plant marker with a permanent marker or a garden pen and place the correct marker in each section so you know what's growing and where.