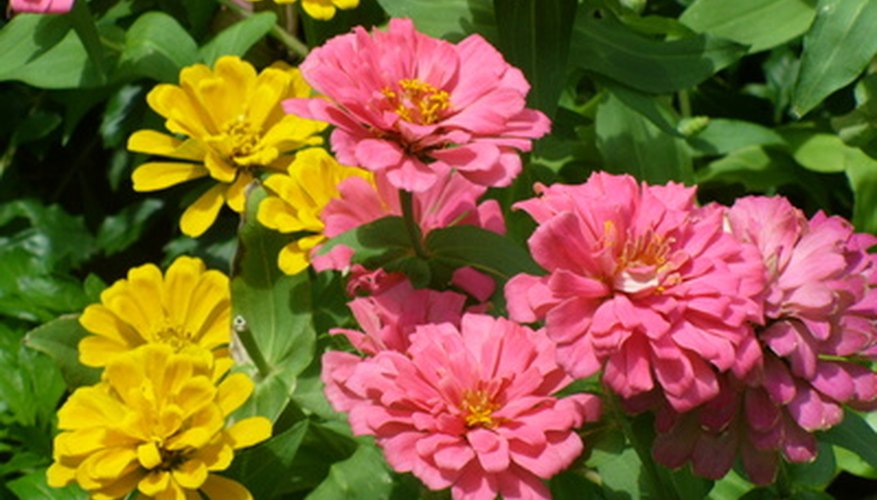 Annual plants complete their lifespan in a year. Because annuals live for such a brief period, many gardeners prefer to grow annuals that don't take a lot of maintenance--after all, annual plants don't need to be healthy to survive a winter frost. There are number of annual plants that can be grown in the home garden with minimal care.
Dwarf Zinnia
Dwarf zinnia (Zinnia elegans dwarf 'Dreamland Pink') is a stout annual that rarely reaches heights of over a foot. The plant boasts bushy, blue-green foliage and fluffy, brilliant blooms. The plant is easy to grow and ideal for a beginner. Dwarf zinnia should be grown in full sunlight coming from the south or west in USDA gardening zones 3 to 10. The plant will grow in a moist, general-purpose potting soil, as long as its well-drained. For best results, fertilize the plant with diluted water-soluble fertilizer every two weeks during the growing season.
Blanket Flower
Commonly seen growing along roadsides and rocky prairie lands, blanket flower (Gaillardia pulchella) is an exceptionally hardy flowering plant that produces striped blooms in shades of crimson, orange, yellow or hot pink, depending on the cultivar. A native of the American South, blanket flower is a hot weather lover that is highly drought-tolerant and can be grown in USDA zones 5 to 10. The plant produces its most beautiful blooms in full sunlight in well-drained, sandy soil. Once established, blanket flower can mostly be left alone.
Mexican Sunflower
A member of the daisy family, Mexican sunflower (Tithonia rotundiflora) is a shrub-like annual that boasts broad green foliage and daisy-like flowers in orange or red shades, depending on the cultivar. Native to Mexico and Central America, Mexican sunflower loves sunlight. Though the plant is heat and drought-tolerant, it will look healthier with regular watering. The low-maintenance plant should be grown in well-drained soil in USDA zones 5 to 10. Mexican Sunflower is excellent for butterfly gardens.