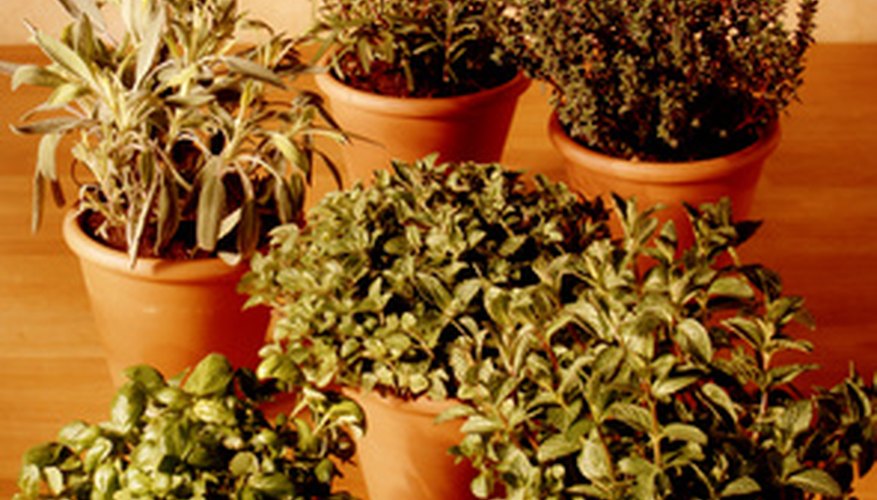 Growing herbs indoors allows you to enjoy the fresh taste of your favorite herbs all year long. Plant herbs in average garden soil and use containers that provide good drainage. Herbs require at least six hours of direct sunlight each day so place your pots on windowsills or near a window in your home with a southern exposure. A large variety of useful herbs are easy to grow when planted indoors.
Parsley
Considered one of the more popular garden herbs, all varieties of parsley will thrive when grown indoors. According to the University of Arkansas, you should soak parsley seeds overnight before planting to encourage faster germination. The parsley leaves will reach maturity between 70 and 90 days after planting. Harvest leaf by leaf for use in soups, salads, stews and as seasoning for other vegetables.
Rosemary
Highly fragrant rosemary will grow and flourish when planted in an indoor herb garden. The University of Wisconsin states that, when grown from seed, it takes up to three years for rosemary to grown into a bush that is large enough to harvest. For faster results when growing your own rosemary, plant a seedling or use a cutting from an established plant. Use fresh or dried rosemary leaves to add flavor to chicken, vegetables, pork and lamb.
Thyme
The popular culinary herb thyme flourishes when grown indoors. According to Colorado State University, there are over 400 species of the herb thyme. Known for its dark green foliage and attractive lavender flowers, cooking thyme is one of the most common species of the herb grown by home gardeners. Harvest your thyme by cutting stems 2 to 3 inches from the tip. Use fresh or dried thyme leaves to add flavor to meats, eggs and vegetables.
Oregano
The aromatic herb oregano is a hardy, easy-to-grow plant that will thrive indoors. Newly planted oregano seeds will sprout in seven to 14 days. The oregano plant produces a small white or purple flower in the summer months. Foliage thickens before and after flowering. Dried oregano leaves are used to flavor sauces. Sources at Kansas State University say oregano helps keep the digestive system healthy and is often used in teas and as a gargle.
Sage
Lemony and slightly bitter in taste, the herb sage is easily grown when planted indoors. According to Washington State University, sage plants grown from seed do not produce a large harvest during their first year. When growing sage at home, plant seedlings to ensure a hearty crop during the first season. Harvest sage just before the plant flowers by trimming the leaves from the branches. Sage adds a fresh, lemony flavor to chicken, fish and eggs. Dried sage is often used to scent perfumes and soaps.