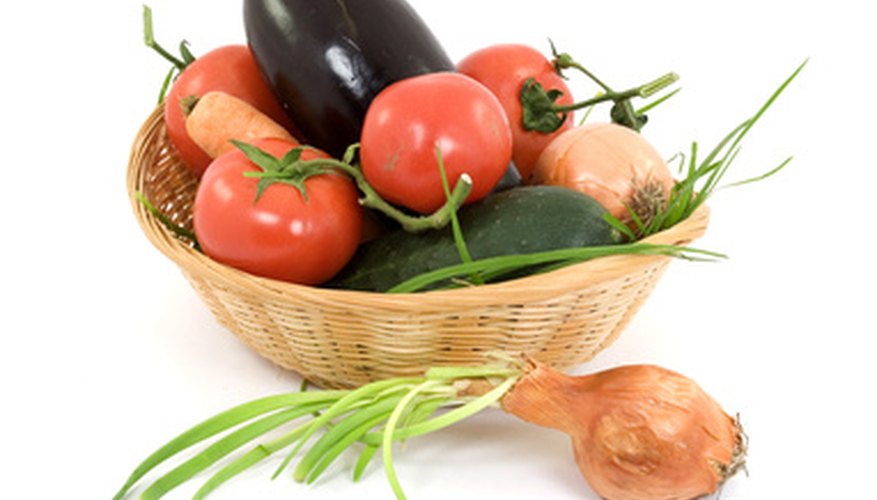 To grow healthful, nutritious vegetables in your own garden you have to start with good soil. Compost will not only improve moisture retention but also add fresh, vital nutrients into the soil. Even if you start your garden in poor-quality soil, a good soil well-balanced in carbon and nitrogen can be achieved when you use compost. Whether you have compost on hand from your home or you have bought it packaged from a garden center, there are a number of ways to grow vegetables with compost.
Work a shovel full of compost into each square foot of growing space in your vegetable bed before planting. For larger garden areas, spread a two-inch-deep to three-inch-deep layer of compost over the soil and mix it in well.
Add six inches of compost over sandy or clay soils and mix it in. If the soil appears more than 50 percent sand or clay, add a second six-inch-deep layer and mix once more.
Spread compost around your vegetable plants after planting to act as a mulch. Using a three-inch-deep ring of compost around the base of tomatoes, cucumbers, peppers and other individually planted vegetables can help retain moisture and keep some weeds from growing.
Substitute compost for potting soil if you are going to grow your vegetable plants as a container garden. This will give your potted plants a rich soil base packed full of elements and minerals.
Use compost to hill up potatoes plants as they grow each time the stems need to be re-covered. Compost is loose enough that new potatoes and roots can easily grow through it.