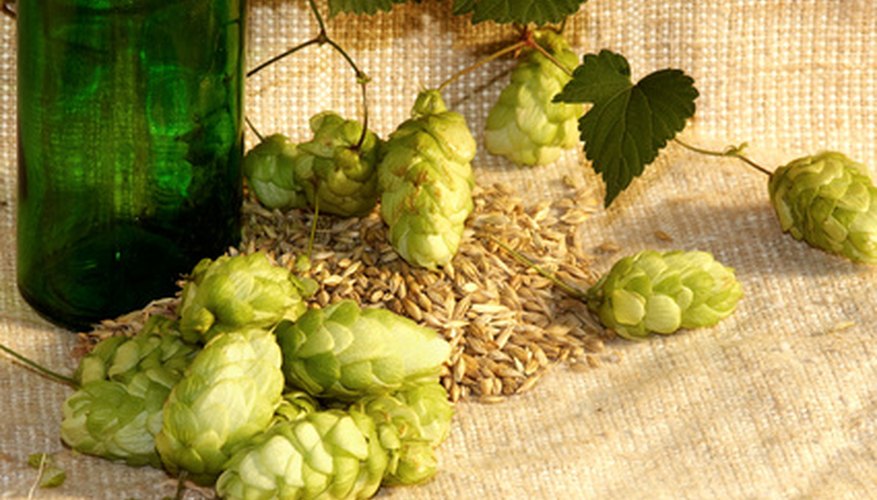 Hops (Humulus lupulus) are perennials that produce vines each year from over-wintered roots. The perennial needs a long growing season to produce a crop of hops flowers. Hops are dioecious, which means there are separate male and female plants. It is only the female plant that produces the cones that are used to flavor beer.
Remove the weeds, grass and debris from a planting site that receives 12 hours of full sunlight a day. Hops need good-draining soil and wind protection. Prepare the planting site in the spring as early as the ground is workable and the danger of frost has passed. Add 3 to 6 inches of compost and 2 to 4 tbsp. of 10-10-10 fertilizer per plant. Work the materials into the top 6 to 8 inches of soil with a shovel.
Drive 10-foot-long poles into the ground at each end of the rows. Tie a heavy-duty wire to the top of the posts. Place the hop trellises in rows 8 feet apart.
Create hills 2 to 3 feet apart in each row. Plant two hop rhizomes in each soil hill with the buds pointing upward. Cover the rhizomes with 1 inch of soil. Spread 2 to 4 inches of wood chip mulch on the hop rows.
Once the hops reach 1 foot tall, prune away all but three or four of the strongest vines with pruning shears. Remove the leaves from the lower 2 to 3 feet of stems to improve air circulation.
Tie two pieces of baling twine to the top wire and stake the twine to the ground. Train the stems clockwise around the twine. Drape the vine over the top wire once the hop plants have reached full growth.
Give the hops 1-1/2 inches of water per week. Do not water the leaves, but pour the water on the ground around the plants.
Spread 1/2 tbsp. of 21-0-0 fertilizer evenly around each plant in June. Scratch the fertilizer into the soil with a hand cultivator. Water the area around the plants well to start the fertilizer working its way down to the roots.
Pick the hop cones when they feel light, dry, brittle and papery, usually in late August and September. To test them for ripeness, the cones should spring back when squeezed.
Cut the vines back to 2 to 3 feet long at the end of the season. Bury the remaining vines in a trench a couple of inches deep. Those vines will produce buds and roots for the following season.