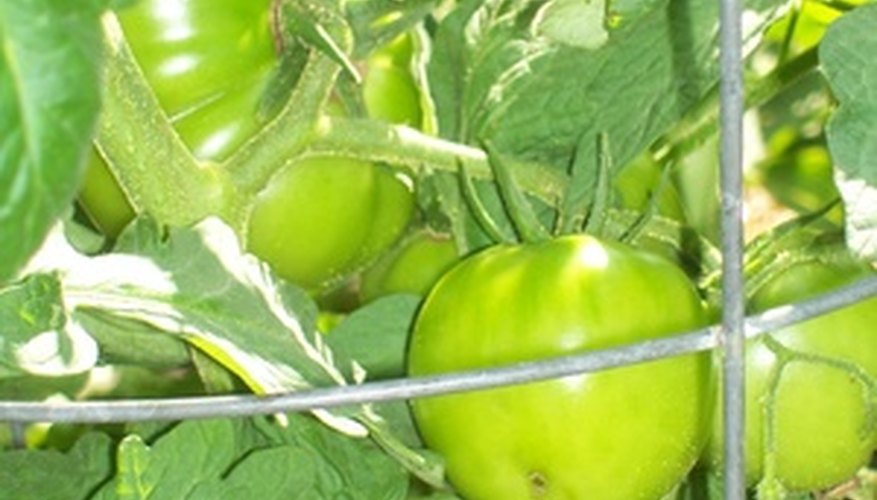 A greenhouse can be a good environment for growing tomatoes, especially if you live in an area that has fruit flies, or if your summer growing season is short. Tomato plants tend to spread and become unruly, so keeping developing fruit off the damp earth protects it from rotting and from ground dwelling insects such as snails and slugs that can find their way into your greenhouse. Staking and trellising tomato plants is easy, keeps your tomatoes tidy and gives you a larger harvest than if you allow your plants to sprawl.
Provide stakes for determinate varieties of tomatoes, but not trellises, according to Mississippi State University. Indeterminate tomato varieties are best suited to training on a trellis because these plants continue to send out spreading vines until their annual lifespan ends in fall.
Drive wooden, metal or plastic stakes into the ground about 3 inches from the tomato plant's base on both sides. Make sure your stakes are 5 to 6 feet long for indeterminate tomatoes; they can be shorter for determinate types. The stakes must be 1 inch in diameter in order to support your vines when they are laden with fruit.
Tie young tomato plants to the stakes using nursery tape, strips of fabric or old nylon stockings cut into strips. As your plants grow, continue tying the main branches to the stakes at approximately 1-foot intervals.
Build a trellis by sinking two wooden support posts into the soil at each end of your row of tomatoes. Build your trellis so the corner posts stand at least 6 feet above the soil. Attach a length of heavy wire from the top of one post to the other. Attach another heavy wire between the bases of the posts. At the base of each tomato plant, tie twine between the top and bottom wires. Train your tomato plants up the twine using nursery tape, or strips of cloth or nylon stockings.
Prune indeterminate tomato plants growing on a trellis by pinching off shoots, also called suckers, that grow at the base of each leaf. This will help to produce more fruit earlier in the season than if you do not prune your plants.
Things You Will Need
Wooden, metal or plastic stakes

Hammer

Nursery tape or fabric strips

Support posts

Cement (optional)

Heavy wire

Heavy twine

Wire cutters

Scissors
Tips
You can use cement to ensure trellis posts are secure, or drive them into the soil if you can sink them at least 2 feet into the ground to provide adequate stability.

Prune suckers from your tomato plants when they are less than 4 inches long to prevent injury or stress to your plant. Mississippi State University advises that the best time of day to prune your tomato's suckers is early, before plants wilt in hot sun.
Warning
When you prune the shoots from your indeterminate tomato plant, use your fingers and not a knife, because a tool can introduce viral diseases.