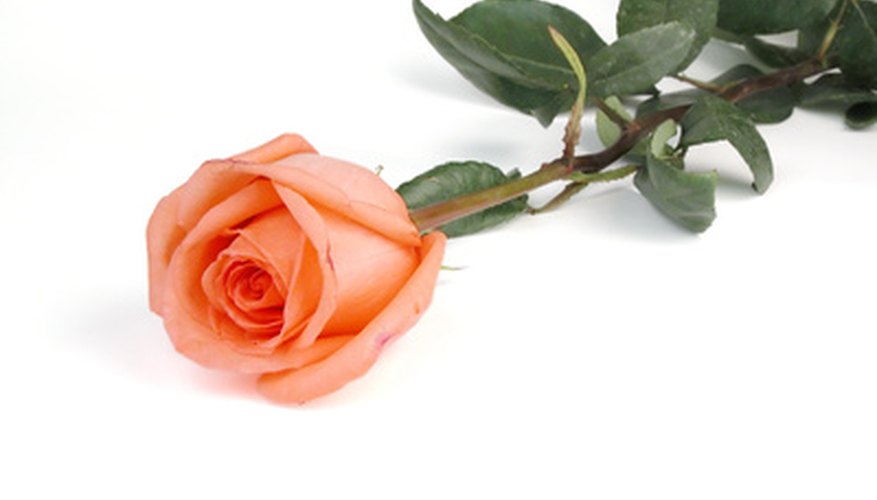 rose on white background image by Anton Gvozdikov from Fotolia.com
Long-stemmed roses are striking in cut flower arrangements, as well as being a favorite for bouquets and gifts. A long-stemmed red rose is often given as a sign of love to that special someone in your life. Most florists and rose growers know the demand for long-stemmed roses, and price them accordingly high. If you have a your own rose bush you can cut a rose to give or to display in an arrangement without the need to pay a florist's markup.
Examine the rose bush and choose a flower that is fully formed but just beginning to open. Pick one that has no more than two of the outer petals beginning to unfurl, as these roses have a longer cut life than those that are fully open.
Follow the stem down with your fingers, locating the leaf clusters or leaf buds. Find an area on the stem that has five leaves or buds and is near the length you prefer your stem—usually a 10-inch long stem is preferred for long-stem roses. Roses have three-, five- and seven-leaf buds along their stem, and cuts should be done near the five-bud locations to ensure future blooming on the stem.
Cut the rose stem right above the five-bud location, using a sharp knife or shears. Submerge the cut end of the rose into a pail of water immediately after cutting, so no air bubbles enter the stem.
Hold the cut end of the rose stem under water and cut off 1/2 inch of the stem at a 45 degree angle, which provides a large surface space for the rose to absorb water. Trim off any thorns from the stem, and cut off any leaves that are below the water line.
Tips
Its best to cut long stem roses after mid-season, or from July on through fall. Cutting out the longer stems early in the growing season may inhibit further blooming or prevent new growth on the rose bush.

You can cut the stem above a seven-leaf bud if absolutely necessary, but this makes it less likely that the stem will produce further blooms that year.
Warning
Avoid cutting long-stemmed roses from young plants. Rose bushes should be at least two years old before you begin cutting long-stemmed roses.