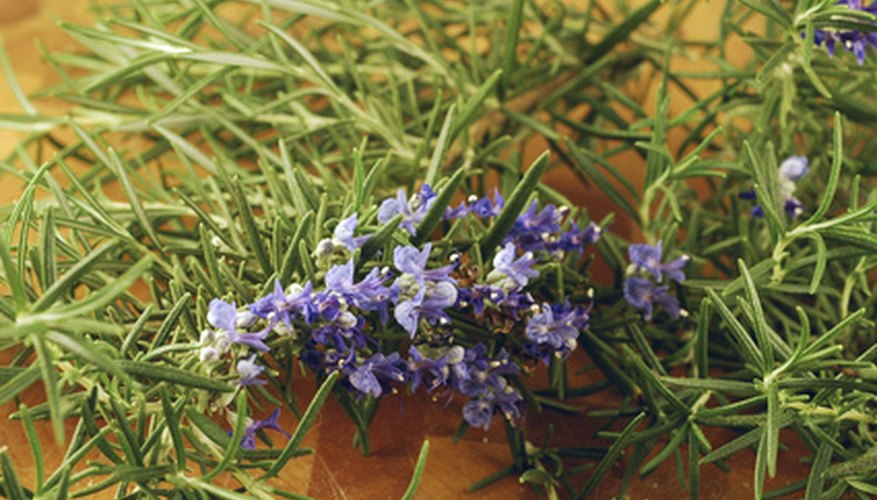 While many gardeners plant rosemary in an herb garden, rosemary also grows energetically in containers. With proper care and attention to the growing environment, rosemary will live year after year to provide an abundance of this savory herb for all of your cooking needs. Find a large and deep pot to accommodate the roots of the rosemary plant and provide a sandy planting medium to hold your rosemary plant.
Combine equal parts of potting soil and coarse sand and fill the planting container approximately halfway full.
Place the rosemary plant into the planting container and situate the plant so the top of the root ball is just under the rim of the container. Add additional potting medium around the roots of the rosemary plant until the planting container is completely full of soil. Tamp down the potting soil firmly with your hands.
Water the rosemary plant generously immediately after you finish planting it. Keep the soil evenly moist throughout the entire growing season.
Place the rosemary plant in a sunny location with some shelter from strong winds.
Trim the rosemary plant in the summer immediately after the plant blooms. Remove growth to shape the rosemary plant into a neat plant.
Harvest rosemary leaves whenever you need them throughout the growing season by clipping off the desired leaves at any point.
Move the container indoors before the first autumn frost. Keep the rosemary plant in a sunny window during the winter and then move it back outdoors the following spring.