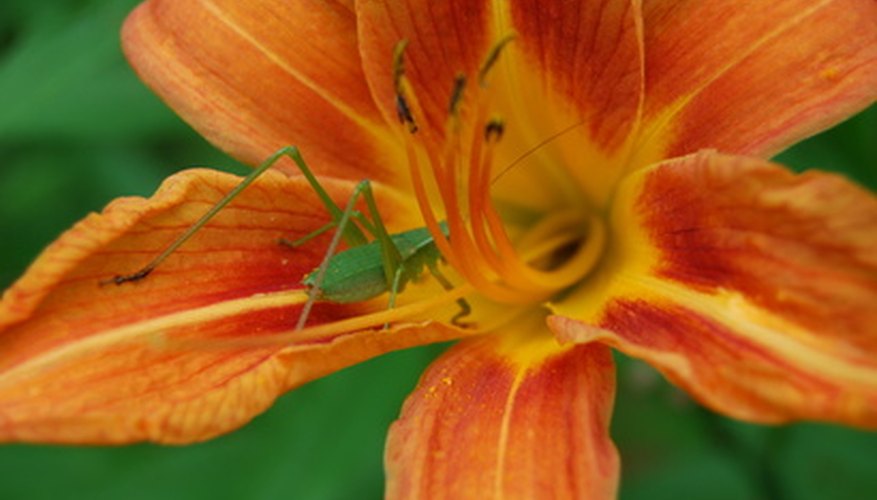 Dry shade conditions usually occur under large trees where the tree's roots are located close to the surface and tree's canopy creates excessive shade. Although many plants are recommended for dry shade, most plant bloom less or produce sparse growth when grown in dry shade. Most plants tolerant of dry shade benefit from addition of organic matter, such as compost, and extra moisture when it can be provided.
Nandina
Nandina (Nandina domestica) is also known as Heavenly Bamboo and grows in full sun to shade. There are many varieties available. Some grow to 8-feet tall while other dwarf varieties only grow to 3-feet tall or less. Nandina's outstanding features are the compound leaves held on nonbranching upright canes and the red berries produced during the winter season. Nandina is appropriate for areas within the USDA Hardiness Zones 6 through 9.
Lamb's Ear
Lamb's Ear (Stachys byzantina) is a spreading perennial herb and ground cover with unusual soft and fuzzy leaves between 2- and 4-inches long. In warm climates, it declines to the ground in the hottest part of the summer, but returns the following spring. Lamb's Ear grows best in USDA Hardiness Zones 4 through 7. Because of its preference for dry shade, avoid wetting the leaves when adding additional moisture to prevent rot and mildew problems. Lamb's Ear benefits from the addition of organic matter, such as compost, to the soil.
Cast Iron Plant
The Cast Iron Plant (Aspidistra elatior) is one of the toughest plants for dry shade. It has broad green leaves and is attractive in containers or in the landscape. The Cast Iron Plant prefers deep, fertile soil but can survive under the most demanding conditions. It is appropriate in USDA Hardiness Zones 7 through 10. The flowers produced by the Cast Iron Plant are not usually noticed. The plant is grown strictly for the tropical-looking foliage.
Dusty Miller
Dusty Miller (Senecio cineraria) has attractive gray or silvery foliage and grows in summer shade in the hottest and driest parts of the U.S., or as an annual summer landscape plant in full sun in areas north of USDA Hardiness Zone 6, where the summers are cool. Dusty Miller is prone to mildew problems if the foliage has frequent contact with moisture or high humidity. That is why in USDA Hardiness Zones 8 through 10, it is often grown as a winter annual with snapdragons and pansies.
Lily-of-the-Nile
Agapanthus (Agapanthus africanus) is native to Africa and is known as an African lily or Lily-of-the-Nile. It is known for its broad, strap-like leaves and outstanding blooms that are made up of dozens of small trumpet-shaped blooms on umbrella-like flowers or umbels. The flowering stems are long and upright up to 36-inches tall, and make long-lasting cut flowers. They can tolerate some neglect and part shade and drought after they are established. However, they do best in garden soil enriched with organic moisture. Appropriate for USDA Hardiness Zones 8 through 11.
Wood Fern
Wood Fern (Dryopteris carthusiana) is a durable fern that grows to 1- to 3-feet tall. It declines to the ground in winter and can survive cold winters to USDA Hardiness Zone 3 and warmer. It spreads rapidly during the growing season and grows in heavy shade. It can survive dry conditions if the proper amount of shade is provided. Like most ferns, it prefers acidic soil enriched with lots of organic matter.
Butterfly Bush
The Butterfly Bush (Buddleia davidii) is also known as a Summer Lilac because of the colorful bloom spikes that are attractive to butterflies. The plant grows to 6 feet or more and as wide. While the Butterfly Bush can grow in half-day shade or dappled shade, bloom production suffers if grown in full or dense shade. Because the plant blooms on new wood, it can be cut back as needed to maintain the desired shape and will produce new blooms in a few weeks on the new growth. The Butterfly Bush grows best as a perennial in USDA Hardiness Zones 5 through 10 and annual everywhere else.
Mock Orange
Mock Orange (Philadelphus virginalis) grows in full sun or part shade in most parts of the United States. It is not related to the Orange plant, but the white flowers that bloom in early spring have a pleasant citrus-like smell. The arching branches can reach a height of 10 feet or more. It thrives in shade if the soil is enriched with organic matter. It is drought tolerant once established, but grows best in very dry areas, such as the high desert, if given supplemental moisture every two or three weeks.
Redbud
The Redbud Tree (Cercis occidentalis) is an understory tree, or tree that grows under other larger trees and reaches to 20-feet tall and 10-feet wide. The heart-shaped leaves are attractive all summer. However, the Redbud Tree's best feature is the profusion of magenta or pink flowers that are produced before the leaves come out in the spring. Redbud Trees will adapt to most soils in the United States and thrive when planted under deciduous shade trees. They do not perform as well when planted under evergreen trees or in extremely alkaline soils
Day Lily
The Day Lily (Hemerocallis) is a highly adaptable plant that grows nearly everywhere it is planted. It makes a nice container plant as well as a garden specimen. They naturalize or spread rapidly and grow in all soil and light conditions. Varieties are available with blooms of red, orange, yellow and even pink. When choosing Day Lilies for your dry shade garden, look for varieties that are adapted to your growing location. Not all varieties of Day Lilies are as cold tolerant as others. Most Day Lilies die to the ground in winter then come back from the roots or tuber in the spring.