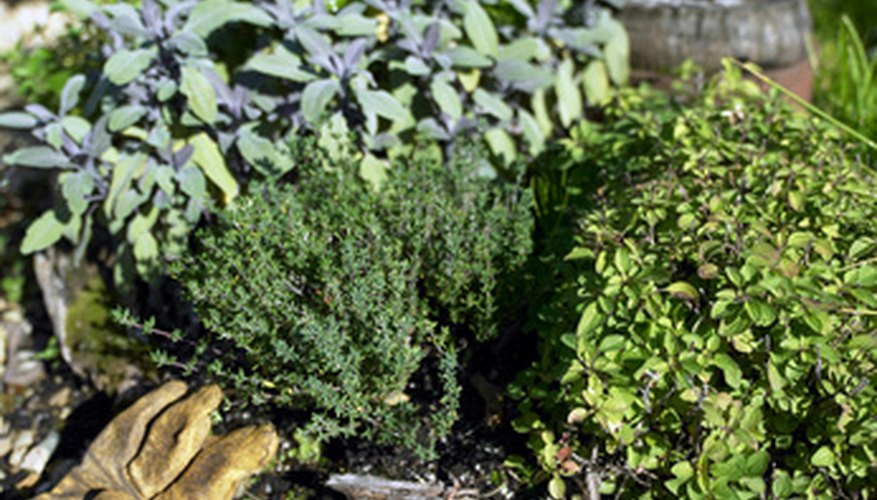 Herb gardens overflowing with fragrant herbs produce an abundant supply of fresh herbs for culinary and medicinal reasons. Most thrive in a sunny location with average soil and require little care other than occasional watering. Many gardeners prefer to allow herbs to spread naturally, filling in the bed with a variety of textures and scents to create a carefree garden. For a more manicured look, individual plants require attention to maintain size and sprawl to new areas.
Much around annual herb plants with organic mulch. Place a 2 to 3-inch layer of mulch around the base of plants. Leave 2 inches of the soil bare around the center stems. Organic mulch is easy to remove and allows you to prepare for planting new annuals in the spring. Mulch conserves moisture and controls weeds.
Layer organic or inorganic mulch around perennial herbs. Organic mulch–like wood chips or grass clippings--breaks down, returns to the soil and must be replaced each year. Inorganic mulch--like landscape fabric, pea gravel or crushed stone--creates a dramatic effect, but is difficult to remove. For permanent plantings of perennial herbs, inorganic mulch creates an attractive barrier to weeds and prevents the herb from spreading.
Mulch the herb bed in fall with a 3 to 4-inch layer of dried leaves or straw to insulate herb plants from the cold. Without winter protection, freezing and thawing soil during the winter months often causes the root ball heave and may damage young roots.
Remove winter mulch in the spring when new growth appears.
Things You Will Need
Mulch (organic or inorganic)