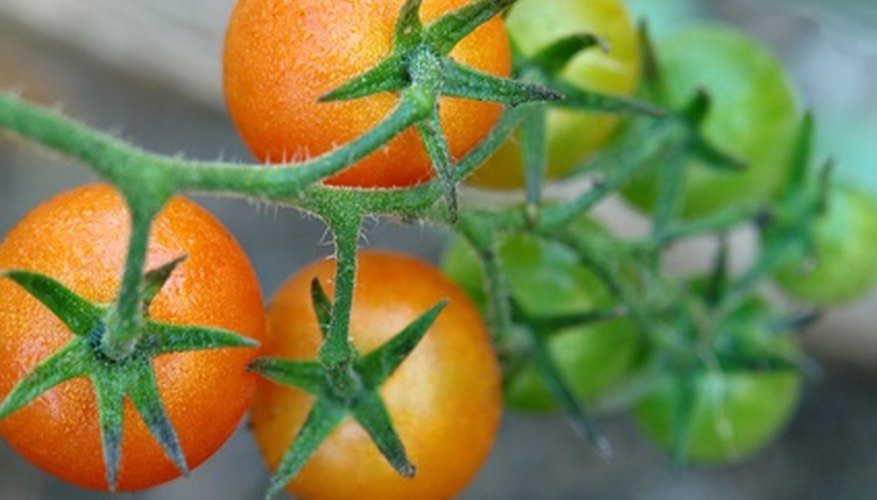 Growing plants and vegetables in bags containing soil is a common practice for greenhouse growing. Gardeners who use traditional outdoor gardening methods may also benefit from growing tomatoes in a bag. When you plant tomato plants in 40-lb. bags of potting soil, you can start the tomato plants in the bags early and then transfer the bags to an outdoor location when the weather warms sufficiently. Prepare the bags carefully to ensure adequate drainage to keep the tomato plants properly hydrated while they grow.
Make two "X" cuts in one flat side of the potting soil bag, using the utility knife. Make one cut in the left half of the bag and the other cut in the right half of the bag and make each "X" approximately 4 inches square in size. Turn the soil bag over with the "Xs" on the bottom and position the soil bag on the tray.
Make two holes for the tomato seeds. Find the center point of the soil bag (both lengthwise and widthwise) and make each hole an equal distance between the center point and the short side edges. Cut through the plastic bag to make 3-inch squares.
Plant two tomato seeds in each square and cover the seeds with approximately ½ inch of potting soil. Water the seeds carefully immediately after you plant them.
Move the potting soil bag with the tray so it is under the grow light. Keep the grow light on for approximately 12 hours each day. Keep the potting soil evenly moist while the seeds germinate.
Thin one seedling from each square when the seedlings are approximately 4 inches tall. Remove the weakest seedling and discard it.
Prepare a planting area outdoors after the final spring frost. Cultivate the soil where you will place the potting soil bag down to a depth of approximately 3 to 4 inches. Sprinkle the granular fertilizer over the soil and work the fertilizer into the soil with the garden spade. Water the soil lightly.
Harden the tomato plants off before moving them outdoors. Move the potting soil bag and the tray outdoors in a sheltered location for two hours during the afternoon. Move the bag back indoors overnight. Gradually keep the tomato plants outdoors for a longer time throughout the week until they are spending the entire day outside.
Move the potting soil bag from the tray and place it over the prepared planting area after you finish hardening the tomato plants off.
Tend the tomato plants the same way you would grow any tomato plants outdoors. Use tomato cages around the tomato plants to support them and keep the plants evenly moist. As the roots grow, they can grow through the Xs you made in the bottom of the bag and into the soil below.
Things You Will Need
40-lb. bag of potting soil

Large, shallow tray

Utility knife

Grow light

Trowel

Garden spade

Balanced fertilizer (granular)

Tomato cages