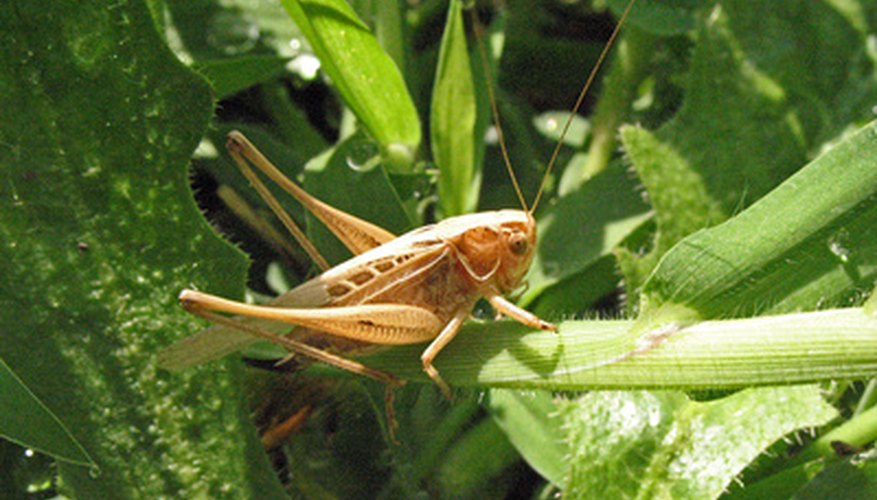 Although grasshoppers tend to favor the vegetable garden, they can and will do a great deal of damage in the flower garden as well. May and June are the best time to treat the breeding sites in the soil and the young adult, or nymph, grasshoppers. If early spring happens to be particularly dry, they may hatch sooner. Insecticidal soaps break down the protective coating on the grasshopper's body. Once the soap penetrates, it destroys cell membranes, killing the insect. Insecticidal soaps are generally safer to use around pets and children than commercial insecticides and can be used safely on food crops as well.
Place 3 oz. of minced garlic into a small bowl and cover it with 1 oz. of canola oil. Allow it to soak for 24 hours.
Combine 1 tsp. of fish emulsion and 1 tbsp. of castile soap with 16 oz. of water. Slowly add the garlic oil and stir to mix.
Pour the insecticidal soap into a glass jar for storage.
Mix 2 tbsp. of the insecticidal soap with one pint of water in a spray bottle. Spray the grasshoppers with the soap. You must apply the insecticidal soap directly on the insect in order to kill it. Look for grasshopper eggs in the soil and spray those as well.
Reapply when you see new grasshoppers in the garden. This may need to be done several times a week.