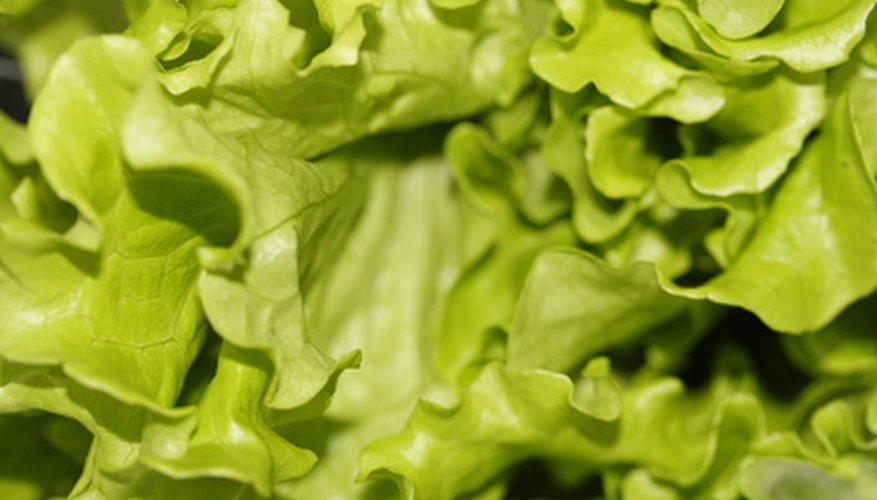 Gardeners save seeds to make gardening more economical, to preserve favorite varieties of vegetables and as a link to the past. Early gardeners often saved seeds from one year's crops to plant the next year. Though lettuce seeds are readily available and inexpensive, you may wish to save seeds from your lettuce. Don't try to save seeds from plants labeled as a hybrid, because these seeds may not reproduce a plant that's identical to the parent. Look for seeds labeled "heirloom" or "non-hybrid." One lettuce plant can produce dozens of seeds, so you only need to set aside one or two plants to make seeds.
Cut a 4-inch section from the toe end of one leg of a pair of pantyhose or nylon stocking.
Allow the lettuce to "bolt," or send up a flower head. Stop harvesting the lettuce and wait for the plant to send up a stalk, upon which buds and eventually a flower will form.
Slip the piece of stocking around the flower head as soon as the flowers begin to fade. Take care not to break the flower stalk, but tie the stocking securely with the string so it won't be blown away by the wind.
Leave the stocking in place until the flower has completely withered and the seeds have collected in the stocking. Cut off the stalk, with the stocking still in place, with a pair of scissors.
Lay the stalk with the stocking attached in a shallow bowl or tray. Cut open the stocking with scissors and carefully shake out the seed. Discard the stalk and the stocking. Pick out any chaff still clinging to the seed.
Hold the bowl or tray over a paper envelope and gently tap the seeds into the envelope. Label the envelope with the date collected and type of seed.