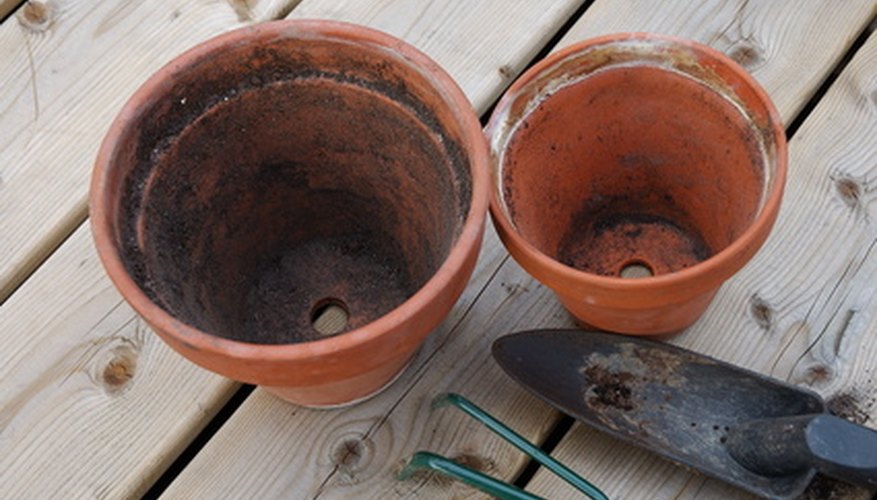 Containers are a great way to grow flowers. Portable and versatile, they can be placed on a table, set on steps, or even stacked in a vertical arrangement. The latter is especially good for small spaces or gardens and is a great way to add height to your landscape. Plant annuals, herbs or even succulents in your pots. For added visual impact, use rebar to create a vertical arrangement with flower pots that look as if they are tipping over.
Clear an area of ground for your arrangement. This arrangement must be in dirt, not set on a porch or other hard surface. Remove large rocks and weeds.
Insert the rebar into the ground to a depth of 2 feet. Use a mallet or sledgehammer to ensure it sits firmly in the soil. This will ensure it is strong enough to support the weight of the pots, according to information published by Gardens and Crafts.
Insert the 12-inch pot onto the rebar by threading the top of the rebar through the drainage hole in the pot. Slide the pot all the way to the ground, resting it flat against the ground. Fill it with your planting medium.
Slide one of the smaller pots onto the pole in the same manner. When it comes to rest on the larger pot, let it tip to one side. Fill it with your planting medium. Continue in this manner, letting the pots tip to one side, then the other in an alternately fashion. Fill each pot with planting medium before sliding the next one onto the rebar.
Add your plants. Take watering needs into consideration, as these arrangements are eye-catching but somewhat difficult to water well. Add mulch around the base of the bottom pot to stifle weed growth and frame the tipping flower pot arrangement.