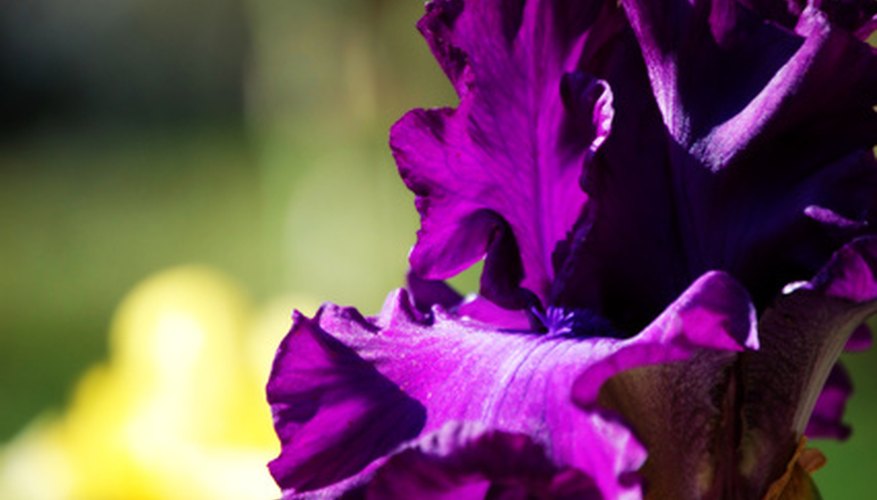 Dark purple iris varieties are those irises that display deep purple-hued flowers. Irises come in many tints and shades of purple, violet, blue and lavender. When adding irises to your garden, identifying varieties that bloom in dark purple will allow you to add the deep, cool-colored petals to your garden's color palette without any guesswork.
Louisiana Iris Delta Star
The Louisiana iris (composed of five distinct species: Iris fulva, I. brevicaulis, I. nelsonii, I. hexagona, and I. giganticaerulea) displays dark purple flowers with thin yellow lines down the center of wide petals in its delta star variety, according to the Mississippi State University Extension Service. Louisiana irises bloom in the spring season. Thriving in half a day of full sun, this variety prefers neutral to acidic soil with plentiful moisture. Apply mulch to iris beds to prevent rhizome sun scald and moisture loss, as suggested by the Mississippi State University Extension Service. Delta star Louisiana irises grow to an approximate height of 3 feet.
Siberian Iris Caesar's Brother
The Siberian iris (Iris sibirica) Caesar's brother is an iris variety that diplays dark purple flowers. Considered one of the least challenging irises to grow and well-suited as a landscape plant, Siberian irises thrive in full sun and moist soil. Avoid standing water as it may diminish the health of the Siberian iris, according to the Clemson University Extension. Caesar's brother is a Siberian iris variety that grows to a height of 3 feet.
Bearded Iris Jewel Baby
Bearded iris (Iris germanica) Jewel baby is a dark purple iris variety. Bearded irises display flowers with six petals with a "beard" (jagged line) down the center of each. The jewel baby bearded iris is a standard dwarf iris; standard dwarfs grow to a height of 8 to 15 inches. A repeat bloomer, this dark purple iris variety blooms in the spring, and flowers again during the summer and fall seasons. Thriving in full sun, bearded irises prefer well-drained, slightly acid (a pH of 6 to 7) loamy soil, according to the NC State University Cooperative Extension.