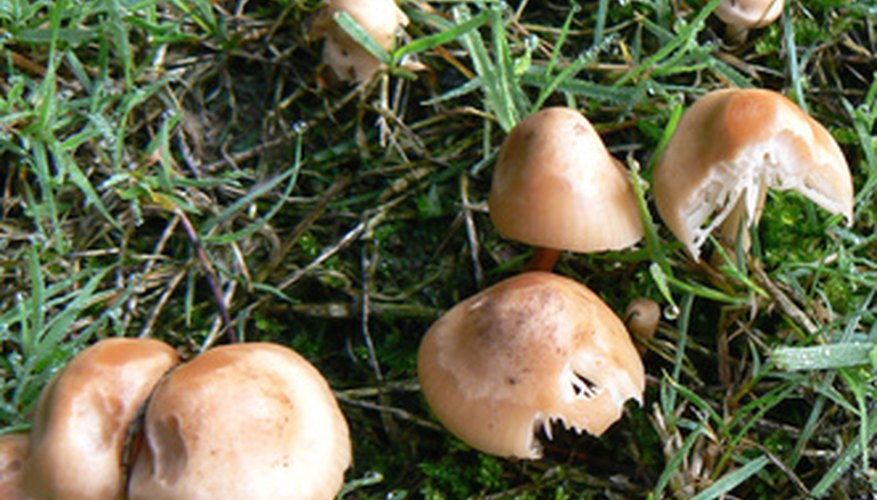 Wild mushrooms pop up quickly and easily in the garden during the cooler, wet seasons, multiplying within hours. If you wish to get rid of mushrooms in your yard, the best way to do it is to remove the fungi before they produce spores and reproduce. It isn't enough to just remove the top of the mushroom--the fungi below the soil must be taken care of to prevent more wild mushroom growth.
Pull off the mushroom caps and stems from the ground. Use the spade to dig up under the patch where the mushroom was, at least 1/2 foot down. Remove any broken roots, dirt or mulch material around the area where the fungi was present. Add a generous amount of the potting soil to the area.
Remove the thatch from your yard if necessary. Sometimes excess thatch can be the cause of wild mushroom growth. Removing the thatch will provide more air circulation and provide sunlight to the area to get rid of the fungi.
Remove any materials from your landscape or garden that could be contributing to the mushroom growth. This includes rotting wood or tree stumps, compost, grass clippings and other similar materials.
Consider changing the watering cycle for your landscape if you live in a wet environment or you water on a daily basis. Wet environments are a haven for wild mushroom growth, so decreasing the watering time and amount would make a significant difference.
Things You Will Need
Shovel

Spade

Topsoil

Thatch rake