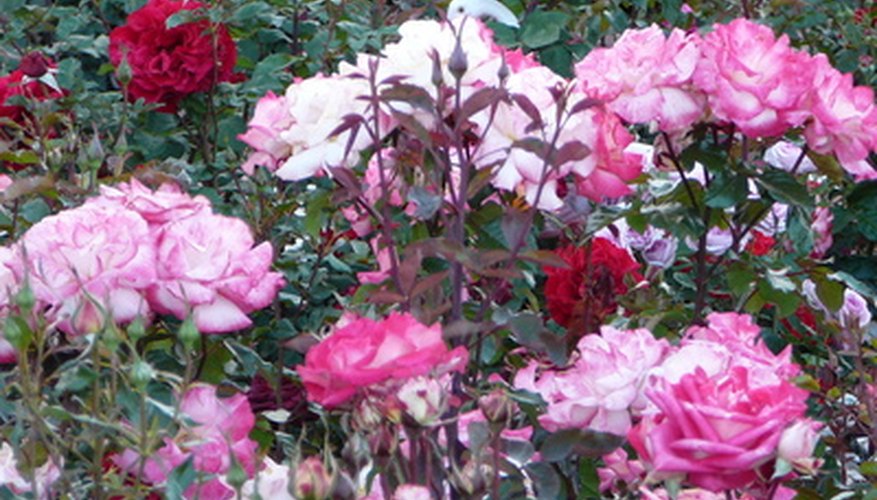 The key to growing roses in northern climates is to pick hardy roses. Many climbing roses, old-fashioned shrub roses and miniature roses have hardy roots. Hybrid tea roses, floribundas and grandifloras have tender roots so they are normally grafted on a hardier root stock. These tender roses do not survive northern winters when grown on their own roots. It is important to protect your roses when growing them in areas with cold winters.
Plant your rose bushes in a site with at least six hours of sun a day with good air circulation. Do not place the roses near trees where they have to compete for soil nutrients and water. Pick a site that offers protection from high winds. Roses need good-draining soil with lots of organic matter like peat moss. Plant your roses 3 to 5 feet apart.
Feed your rose bushes with 5-10-10 fertilizer using 2 lbs per 100 square feet of planting area in the spring. The first feeding takes place right after 4 to 6 inches of new growth appears. Feed the roses again sometime in June.
Spread 2 to 4 inches of sawdust mulch around the base of the rose bushes in a 12 to 18 inch diameter circle.
Soak the rose bushes whenever the soil begins to dry out by running water over the root area for 5 to 10 minutes. Do not splash the leaves or flowers since this may cause spots.
Remove the flowers by clipping the rose stems with a pair of sharp shears. Leave two nodes at the base of each flower on the plant. Not allowing the roses to produce seeds will promote more blooms.
Mound 10 to 12 inches of soil around the rose bush base when the ground starts to freeze in the winter. Cover the roses with 10 to 12 inches of leaves, hay or evergreen branches once the soil mound has frozen. Remove this winter protection in the spring once the ground begins to thaw.
Prune away winter killed canes, weak canes and spindly growth in the spring with pruners. Leave at least three vigorous growing canes.