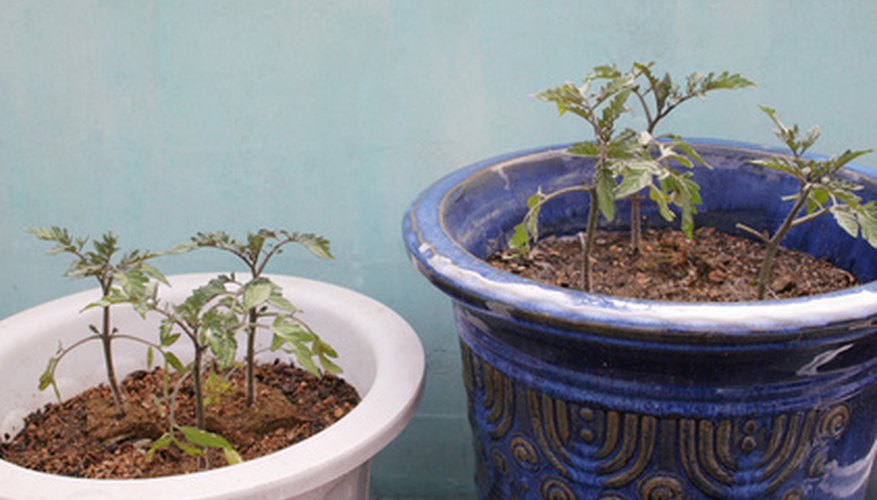 When growing tomato plants in containers, you can either plant them as seeds or as seedlings. Tomato plants that are grown from seeds are usually started in small seedling pots. Once these plants reach about 8 inches tall, you can transplant them to their permanent home. Because starting tomato plants from seeds takes some time, it's best to plant the seeds six to eight weeks before the projected final frost date for your area. That way, you can transplant the seedlings as early as possible.
Place the seedling pot on a flat, level surface, and fill it to about an inch from the top with seed-starting mix. This sterile growing material helps prevent soil-borne diseases in the plants while they are still delicate.
Use a chopstick to scratch out a 1/4-inch-deep furrow in the center of the top layer of potting mix. Drop a seed in the center of the furrow.
Pinch together the soil to fill in the furrow and cover the seed. Water the seed lightly, and slide a plastic bag over the pot to maintain soil moisture. Remove the bag as soon as the seed begins to sprout so that the plant doesn't rot.
Place the covered seedling pot in a 75- to 80-degree Fahrenheit spot. As soon as the plant begins to sprout, remove the plastic bag and move it to a cooler place with a strong source of light, such as under a grow light or next to a window.