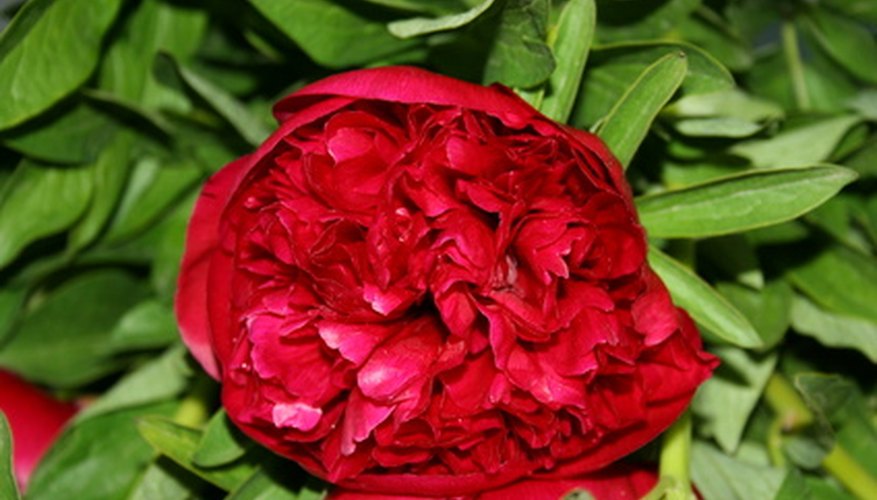 Peonies are a herbaceous perennial that grows from a specialized root system called a rhizome. The rhizome stores all the nutrients necessary for the following year's growth. During the winter, the peonies die back as the rhizome goes dormant. Peonies are long-lived plants, so eventually it becomes necessary to dig the rhizomes for dividing or to move them to a new bed. If you can't plant the rhizomes within a day or two, they must be stored properly so they do not dry out and die.
Mix a rhizome fungicide with water following the package directions. Soak the rhizomes in this solution for ten minutes to help prevent fungus problems on the roots during storage.
Spread the peony rhizomes out on sheets of newspaper. Place them in a well-ventilated, shaded area to dry, which takes about three or four hours.
Fill a perforated plastic bag with dry peat moss. Label the front of the bag with the peony variety.
Bury the rhizomes in the peat moss. Store in a cool, dry area until you are ready to plant. A basement or cellar often offers the proper storage temperature.
Things You Will Need
Fungicide

Newspaper

Perforated bags

Peat moss
Tips
If you do not have perforated bags, store in a regular plastic bag, but leave it open one quarter to provide air circulation around the peony rhizomes.

Peony fungicides are available from nurseries and seed suppliers.
Warning
Check on the rhizomes periodically during storage. Dispose of any that become soft and show signs of rot. On larger rhizomes, cut off the damaged area and treat the undamaged area with fungicide again before storage.