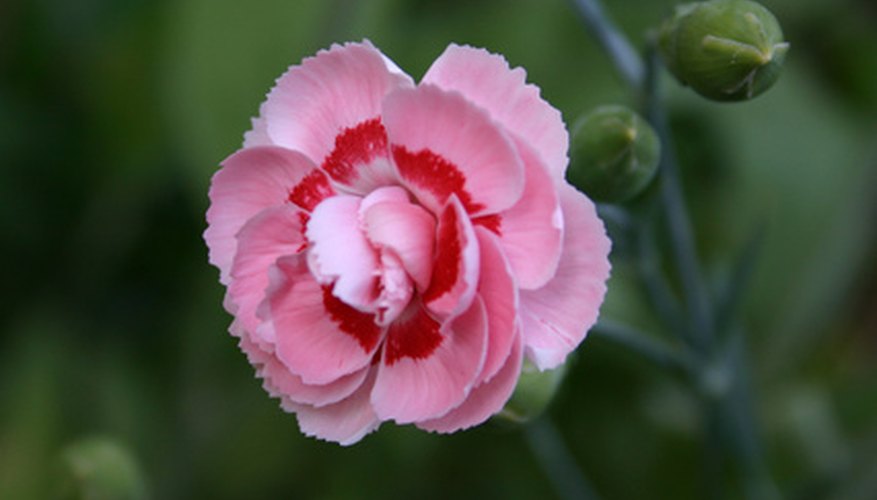 Carnations are a staple in the florist shop. They are generally inexpensive compared to other flowers, while still adding color and beauty to a floral arrangement. While florists generally obtain their carnations from greenhouse flower distributors, you can grow these same carnations outside in your home garden. Carnations are a variety of flowers in the genus Dianthus. You can start them from seed indoors in the late winter and transplant them outdoors in the spring, or you can purchase established plants from your local nursery and plant them in the spring or early fall.
Plant carnations is full sun, which in the gardening world means the area receives at least six hours of sunlight. If you are planting your carnations in the fall after some of the leaves have fallen from the trees, choose an area that will be still be sunny in the spring and summer.
Loosen the top 6 to 12 inches of soil with a tiller, hoe or garden fork. Then, mix in about an 1 to 3 inches of compost or peat moss to create a nutrient-rich, well-draining soil bed that is ideal for growing carnations.
Dig holes that are twice as wide as your carnations' current containers, but just as deep. Space the holes about 6 to 12 inches, based on the mature width of your carnation variety.
Take your carnations out of their containers and keep the soil intact. Backfill the soil and gently firm it down with your hands.
Water with about 1 inch of water and, if you planted your carnations in the fall, add about 2 inches of mulch after the ground first freezes in the fall or early winter.
Add a ½-inch layer of compost in the spring and 2 inches of mulch to help feed your carnations and help them retain water. Water them with 1 inch of water a week when rain does not provide this amount.
Remove fading flowers to encourage more blooms. If necessary, stake tall carnations by inserting a stake about 2 to 3 inches from each plant and gently tying the plant on the stake to prevent it from bending over.
Cut down the plant in the late fall or early winter after the first killing frost. Leave about 1 to 2 inches of plant above ground. They will grow back in the spring.
Things You Will Need
Hoe, tiller or garden fork

Compost

Clippers

Mulch
References