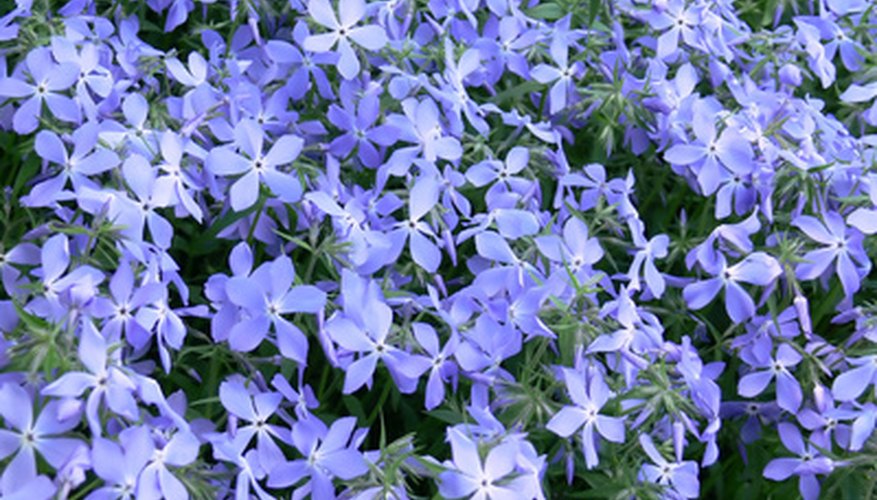 Creeping phlox (Phlox subulata) forms a carpet of color in the spring. This low-growing perennial loves full sun and is not picky about its soil as long as it's well-drained. Creeping phlox comes in many colors, including mauve, blue, red, purple, white and pink. Iowa State University Extension recommends the varieties 'Scarlet Flame,' 'Emerald Blue,' 'White Delight' and 'Emerald Pink.' Creeping phlox, with its dense foliage mats, is a great choice for edging, rock gardens and embankments. Because it transplants well after being divided, you can easily increase the amount of phlox in your garden.
Examine your phlox and remove any broken, weak or dead areas. Transplanting less-than-perfect pieces can spread disease.
Use a trowel to cut off the phlox you want to transplant. Cut straight down, going as deep as possible to neatly slice through all the roots.
Dig up the piece of phlox you are going to move. Start by digging at the drip line, cutting a trench around the clump, and then lift the plant out of the soil.
Place the divided phlox in a shady area, and cover with newspaper to reduce moisture loss. If the roots dry out before you can transplant, soak them in water for an hour before replanting.
Dig a hole for the phlox transplant the same size as the original. Add a handful of compost to the hole and water thoroughly. When the water has been absorbed, gently spread the roots of the division and place in the new hole.
Tamp the soil down firmlyaround the phlox division, and then water the plant. Water every other day until established.
Things You Will Need
Trowel

Newspaper

Bucket

Compost

Hose or watering can