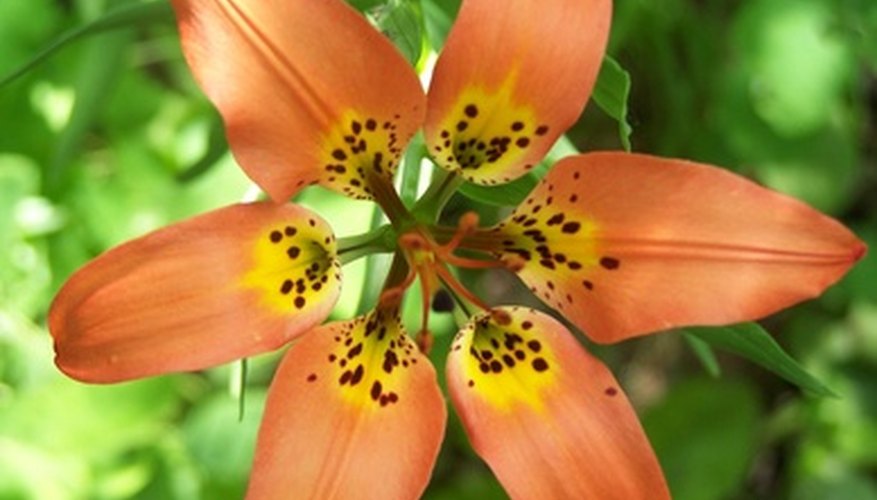 Ornamental grasses provide texture and color with their upright, spiky shape and billowing stems. Growing in upright clumps of varying heights and widths, ornamental grasses are typically drought-tolerant, creating an unfussy and low maintenance landscape plant.
Another vibrant landscape plant is the lily. Grown in a wide range of colors and with a blooming time of almost every season, lilies look striking planted along a perennial flowerbed or border. When planted accordingly, a lily can be the focal point of the garden throughout most of the year, including fall when the classic kaffir lily is in bloom.
Sketch out a layout or "blueprint" of your landscape to include existing plants and flowers. Mark the areas within the landscape where lilies and ornamental grasses will complement other plants and flowers.
Plant tall varieties of lilies like callas in the back of a perennial bed to ensure the landscape remains open and the plants do not obstruct the garden. Choose other lily specimens, such as the bright red Aztec lily, to grow within a "hot" flowerbed where other fiery plants in reds, oranges and yellows grow.
Grow small ornamental grasses, such as variegated manna grass, in rock gardens and flanking pathways, such as to the entrance to the home. Mix different varieties of low-growing ornamentals in masses along a flowerbed to help define the garden.
Plant spreading ornamental grasses, such as creeping broad leafed sedge, in place of thirsty sod. Grow creeping and upright ribbon grass where you want to keep the landscape easy to maintain.
Add a pampas grass in the corner of the landscape as the focal point to the yard. Nestle them along a garden wall or as a makeshift privacy barrier to a backyard porch. Remember to investigate their maximum height and width to ensure adequate spacing.
Use large flowerpots to grow African lilies to bring in their white, blue and pink blooms. Add fire lilies, low-growing lilies that reach 12 to 18 inches tall, to a container for a bright burst of color to the landscape.
Tip
When landscaping with lilies, consider their blooming season and height, as well as how their color will complement other plants within the garden.
Resources