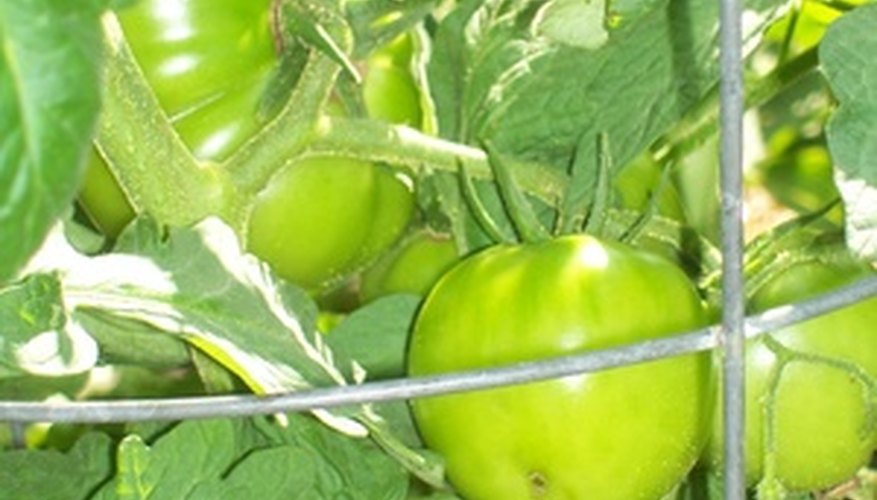 Tomato plants must be supported as the stems and branches become heavy with fruit. After one tomato growing season of using store-bought tomato cages, you may decide you need something stronger and better. Make your own wire tomato cages. Homemade wire tomato cages not only are wider and stronger, but can last for years if constructed properly.
Roll out the construction wire mesh about 20 feet. You'll need about 50 feet of mesh with 6-by-6-inch squares.
Measure a 7-foot section of wire mesh wiith measuring tape and cut a 7-foot section with wire cutters or bolt cutters. Wear protective glasses and heavy gloves as the wire mesh can snap back after it is cut and the wire ends are sharp.
Form the 7-foot cut section into a tube-like shape, with the cut ends overlapping one 6-inch square.
Attach the overlapped, cut edges with plastic ties. Use a plastic tie at every 6-inch square.
Place the wire tomato cage around your tomato plant. Drive in the rebar or wooden stakes into the ground next to the cage. Using the plastic ties, attach the cage to the rebar or stakes.
Things You Will Need
Contractor's or construction wire mesh

Measuring tape

Wire cutters or bolt cutters

Protective glasses

Heavy gloves

Plastic ties. 20 per cage

Rebar in 4-foot lengths or wooden stakes
Tip
As your tomato plant grows, you can use the wire tomato cage to also support the branches of your tomato. Loosely tie the branches of your tomato to the wire cage with cloth strips, plastic ties or nylon hosiery.