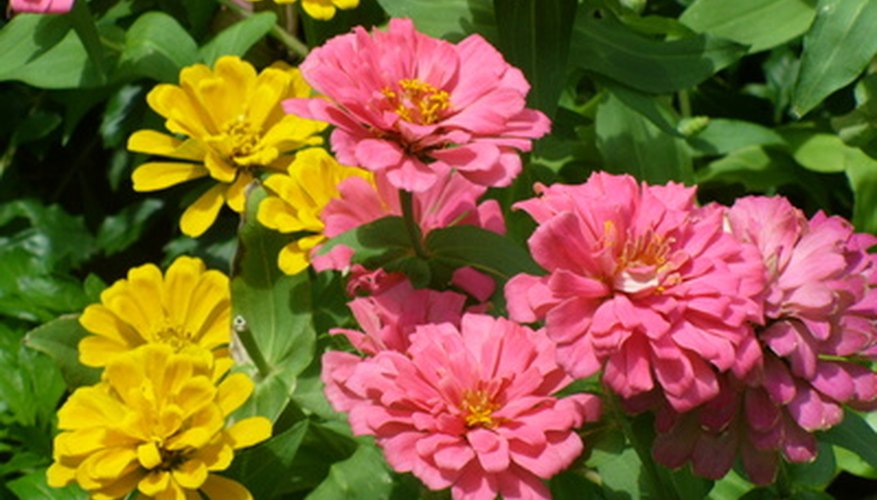 Zinnias, popular, inexpensive and easy-to-grow annuals, add cheerful splashes of color to the garden. Zinnias are prolific bloomers that adapt well to just about any soil. Native to Mexico, seeds from the zinnia were first brought to Europe in the 18th century, according to the University of Vermont. The plant was named after Dr. Johann Gottfried Zinn, who wrote the first scientific description of the flower. Easy to start from seed, zinnias may be sown indoors four to six weeks before the last frost, which will result in earlier blooming.
Moisten peat pots by drizzling with water. Add three to four seeds in each one and cover them with a thin layer of vermiculite, about an eighth of an inch. Water lightly.
Set the peat pots with seeds out of direct sunlight in a warm humid place--the ideal temperature range is 75 to 78 degrees F. Keep the peat pots moist, watering every three or four days or as needed.
Watch for seedlings to emerge, which may take five to seven days. Place seedlings near a sunny window. At this point, allow soil to turn from dark brown to medium brown before watering zinnia seedlings, but do not allow them to wilt. Nighttime temperatures may now be reduced to 65 to 68 degrees F.
Fertilize two-week-old seedlings with a 14-0-14 fertilizer, following package directions. Continue watering seedlings as needed, but now allow the soil to dry between waterings as this promotes strong root development.
Plant seedlings outdoors once the danger of frost has passed. Avoid root disturbance by planting the peat pots directly into the garden. Make sure to cover the peat pot completely because if a portion of it is above ground, it may wick moisture away from the plant.