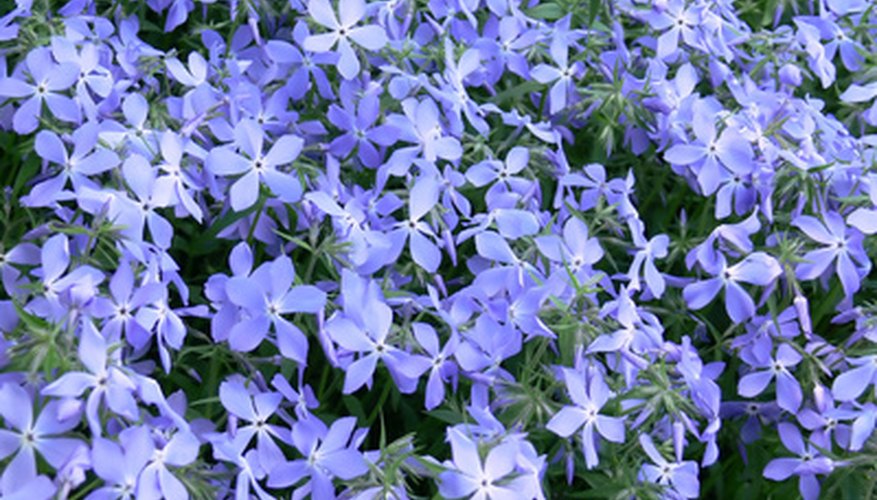 Creeping phlox, also called Phlox subulata, grows 6 inches tall and can spread 18 inches. It has narrow leaves, which gives it the appearance of moss, and blooms in April and May. The plant is hardy down to USDA zone 3, which means gardeners can grow it throughout the United States. The quickest and easiest means of propagating the plant is through division.
Choose an area to plant the new phlox plants in full or partial sun with moist, well-drained soil. Prepare the new soil for the phlox by digging and breaking up clumps. Mix in some organic compost to add nutrients to the soil.
Time the division correctly, giving the plants the best chance to survive. Wait until the phlox finish flowering in the spring. Choose an overcast day so the plants do not dry out quickly when out of the ground. If the soil is dry, water a day before division.
Lift the creeping phlox plant out of the ground with a spade or fork. The roots will be shallow, so be careful not to injure them.
Inspect the phlox, looking for sections with healthy shoots and roots. The roots may be sparse, but do not worry, as this is characteristic of the plant. Tease apart these sections, dividing the plant into parts containing three to five vigorous shoots. Do not include woody stems in this count, as they will not grow well in another area.
Plant the divided phlox in the new site, and replace some phlox in their original soil. Water both sites, keeping the plants consistently moist until they begin growing again. At this point, applying a complete fertilizer may encourage more vigorous growth in both areas.
Things You Will Need
Organic compost

Spade or fork

Fertilizer
Tip
You may also propagate phlox through taking stem cuttings in the fall and planting them indoors. This requires more care, however, and a longer period of time to produce a mature plant.