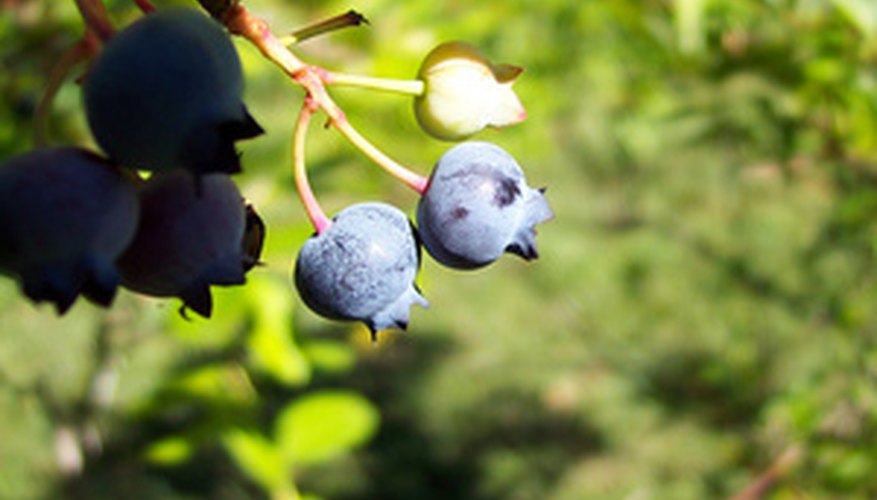 Blueberry plants typically require exposure to cold during the winter to help the plants grow and thrive, which can make them difficult to raise in places with mild winters, such as Florida. However, scientists have developed certain blueberry cultivars that are less dependent on exposure to cold temperatures and can therefore be grown in north and central Florida, according to the University of Florida IFAS Extension. For northwestern Florida, the rabbiteye blueberry is the preferred cultivar because it grows well in areas with cooler winters, such as those north of Ocala.
Select a site for planting your blueberry bush. They need full sun and will grow best in a well-draining soil.
Loosen the top layer of soil at the planting site with a shovel.
Mix in between a quarter and a half a cubic foot of acid spaghnum peat moss to the soil with a trowel or shovel so it is well blended.
Dig a hole large enough to accommodate the root structure of your blueberry plant. Blueberries should be planted at the same depth they were grown at the nursery, so use that as a guide when digging. A soil line present on the stem should be an indication of how deeply it was grown.
Set the blueberry plant in the hole. Place it firmly but gently and allow the roots to spread out naturally.
Fill in the hole with the surrounding soil, packing it down firmly to remove any air bubbles from the soil.
Water the plant immediately after it is planted. Young blueberry plants need about 1 inch of water per week. In Florida, most water needs will be provided by rainfall, but be sure to water the plant regularly during dry spells.
Prune weak growth from the bottom of the plant and remove all but strongest and tallest cane, which should remain in tact.
Remove flower buds from the plant during the first growing season. Blueberries should not produce fruit in their first season, and pruning the buds will help the plant conserve energy for growth and fruit production in the following growing season.