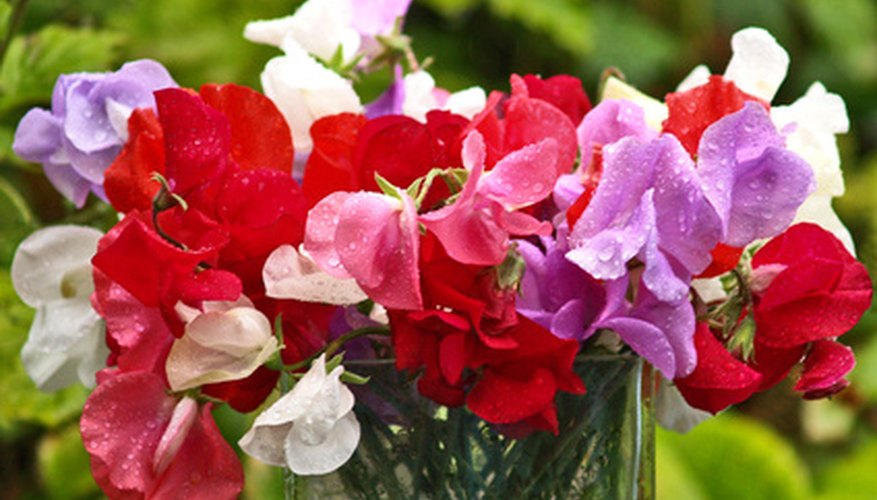 Sweet peas are a colorful, fragrant floral vine. Gardeners use them to add a splash of color in flower beds and containers, and let them climb up a decorative trellis. Sweet peas are annual flowers, which means you will need to replant them to enjoy their blooms again each year. To save money on seeds, or to give sweet pea seeds to a friend, harvest and save them for next year's garden.
Leave the sweet pea flowers on the plant until after the blooms have faded and the petals have dropped. Where the flower was attached to the plant, a long, thin pod will begin to form. This will resemble an edible pea pod, but smaller.
Wait for the pod to grow, swell and turn from green to brown. This indicates that the pod is drying out. You may even see the pod begin to split. This process can take several weeks.
Snip the pods off the plant when they are brown and dry. Take them inside and set the whole pods on a window screen that is lying flat on a countertop. Allow the pods to continue drying for an additional three days.
Split the dry seed pods open with your fingers and empty the seeds onto the screen. Throw away the pod. Shake the screen lightly to separate any debris from the seeds.
Leave the seeds on the screen for an additional three days to be sure they are completely dry.
Store the seeds in a paper envelope and store the envelope in an airtight container in a cool, dry area.