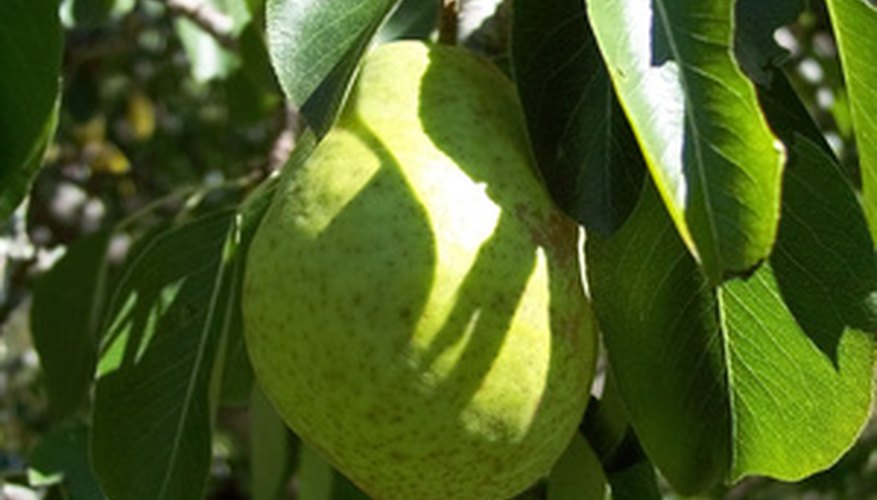 Freezing conditions cause the most extensive damage to seedlings and trees less than 5 years of age, according to the University of Florida IFAS Extension. Large fruit tree orchard owners use micro sprinklers to spray water on fruit trees to prevent freezing damage. The warm water releases heat to the fruit trees as it freezes, protecting them from extensive internal structural damage. Home gardeners can spray fruit trees with water to prevent freezing and permanent frost damage.
Raise the soil temperature prior to freezing temperatures by watering the base of the tree to the drip line, until the ground is thoroughly saturated. The soil temperatures increase up to 5 degrees F with this method, according to Cornell Cooperative Extension. This difference alone could potentially prevent irreversible fruit tree freeze damage.
Spray the fruit tree's trunk with water beginning just below the lowest branches, working your way down the tree. Repeat the spray a second time to make certain water catches in the bark layers of the tree.
Connect a lawn sprinkler to the end of the garden water hose. Stand on a step ladder and sprinkle the top of the tree and its interior with water.
Place the water sprinkler approximately 1 foot from the trunk of the tree. Position to the lowest pressure setting that is strong enough to mist the tree's trunk. Attach another water sprinkler to a second garden hose. Set on the other side of the fruit tree from the first sprinkler. Adjust sprinklers so the majority of the tree's trunk receives water spray. Allow the sprinklers to mist the trees throughout the night if temperatures are extremely low.
Things You Will Need
Garden hose

Water source

Lawn sprinkler

Step ladder
Tip
Let someone know you are using a step ladder or have them join you to ensure safety.
Warning
Spraying fruit trees with water does not help parts of trees already suffering frost damage.
Resources