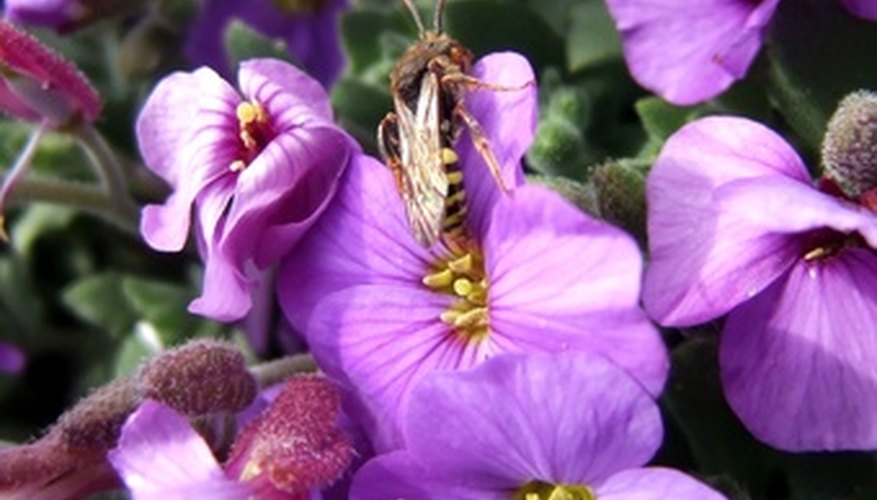 Available as either a compact growth plant or a trailing vine, the tiny vivid flowers of the lobelia make a splash of color from early spring until the first frost of autumn. Cultivars of lobelia are available in white, pink, blue or violet. Some have contrasting centers of yellow or white. They are as attractive planted in a mass border as they are tumbling out of a hanging basket or raised flower bed. Lobelia grows from 3 to 10 inches tall, and the dainty plant needs a bit of care from the gardener to thrive.
Temperature Tolerance of the Lobelia
The lobelia is a native of South Africa, but grows in all hardiness zones of the United States. It grows best in cool temperatures, but a frost may kill it. Most growth happens in the spring and early summer. As the temperatures rise, blooming slows down. Cut the lobelia back slightly to bring back the flowers.
Sunlight
The lobelia grows best in areas that receive some shade as the hot temperatures of summer will affect the blooms. Plant the low growing lobelia near taller plants to give it some protection from the heat of the sun, as well as giving the garden space an appealing artistic visual dimension.
Soil
Lobelia will be more vibrant if planted in a rich but well drained soil. Lobelia prefers a moist humus environment over regular garden soil. The ideal pH for the most brilliant flowers of the lobelia is between 6 and 7.5.
Moisture
The delicate lobelia has special watering needs during the dry, hot days of summer. The plant will stop blooming if it does not get enough moisture. On the other hand, overwatering can lead to root rot and the plant may die. There is a chance that the plant will recover and start blooming during the cooler autumn days if it is cut back after wilting and the soil not allowed to dry out.
Best Location for Lobelia
Lobelia grows well as an edging plant, in a border, rock garden, container garden and hanging basket. The cultivars of the rare blue shades are especially appealing as a contrast color in container arrangements. The trailing vine varieties tumbling from a window box can soften architectural lines, making the area more appealing. Keep in mind that any raised or container garden will dry out more quickly than the regular garden, and the lobelia is not drought resistant.