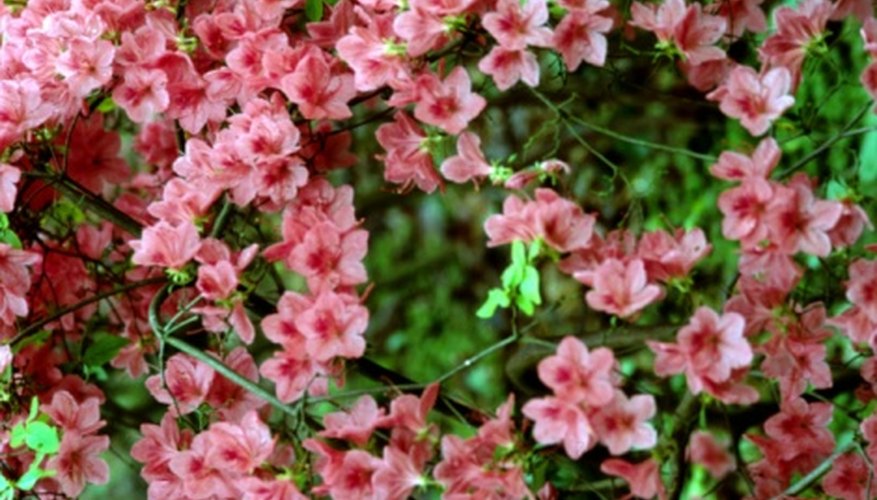 Jupiterimages/Photos.com/Getty Images
Many flowering plants grow well in acid soil, depending on other growing conditions present in the landscape. These plants prove easiest to maintain where soil is naturally acidic. In soil with alkaline conditions, amending with Canadian peat moss and sulfur lowers soil pH to appropriate levels. Acid-loving plants come in a variety of types and sizes, from small, blooming groundcovers to 10-foot flowering shrubs.
Sweet Pepperbush
Scientifically known as clethra alnifolia, this shrub reaches 3 to 8 feet in height at maturity. It tolerates shade and wet, making this acid-loving plant ideal for areas with problematic growing conditions in the home landscape. White, fragrant flowers bloom in the summer, with foliage turning yellow and brown in the fall.
Heather
Calluna vulgaris is an evergreen groundcover. It grows to a height of 3 feet, requiring moist, acidic soil. Flowers bloom in a variety of colors, including pink, red and white.
Rose Daphne
Daphne cneorum is a small, acid-loving shrub, reaching only 1 foot high when fully grown. It needs full sun and moist soil. Mulch around the plant to help retain moisture. It flowers in the spring, producing strongly scented, pink flowers.
Rhododendrons
Rhododendrons and azaleas, closely related flowering plants from the rhododendron family, prefer partial sun and well-drained, moist, acidic soil. They come in both deciduous and evergreen varieties, reaching a mature height around 8 to 12 feet. Light pruning throughout the growing season encourages healthy development in a compact form.
Hydrangeas
These flowering shrubs bloom from summer through fall, requiring partial shade and moist, acid soil. These shrubs need annual pruning following flowering. They tolerate cold temperatures poorly, growing best in the warmer climates of zones 6 or higher.
Obedient Plant
This plant produces long, serrated leaves that turn red in the fall. Spiky flowers bloom in red, white and purple in late summer. The plant reaches 2 to 4 feet in height, with a width of approximately 3 feet. Some gardeners find staking helps this plant remain upright and aesthetically appealing. It grows in full sun to part shade, in moist, acid soil, where it grows and spreads quickly. It tolerates heat well and requires no fertilization.
Balloon Flower
This plant reaches 2 to 3 feet tall, producing blue, pink, white and purple blooms in the summer, some of which are double flowers. It performs best in well-drained, soil with a slightly acid pH level, planted in full sun to partial shade.
Hostas
A well-known plant for partially shaded landscapes, hostas do best when planted in well-drained, nutrient-rich and slightly acidic soil. These large-leafed plants produce spikes of purple or white blooms. Leaf color ranges from blue to green, with several cultivars displaying variegated leaves with white, yellow or gold edges. Fertilize only if soil tests show depleted nutrient levels. Hostas need regular moisture from rainfall or watering on at least a weekly basis for best growth.