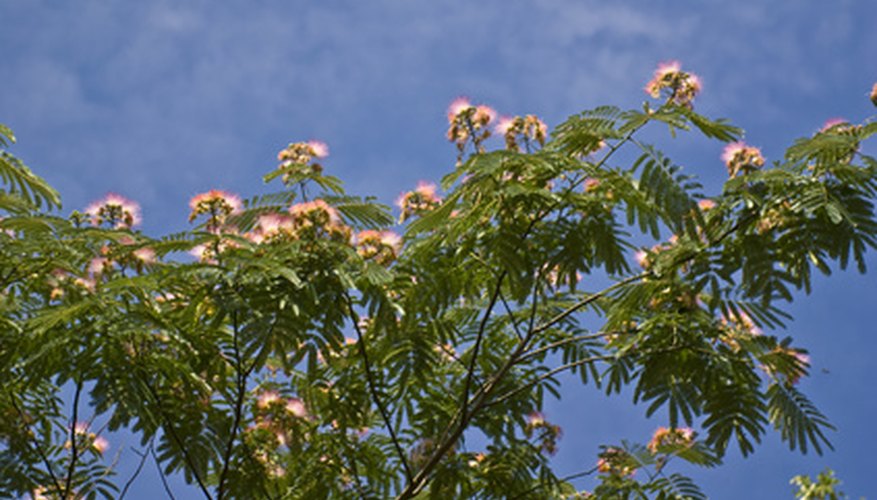 The mimosa tree is deciduous mid-size tree with delicate feathery pink flowers. Its unique flowers have earned this tree its alternate name of the silk tree. Propagating a mimosa tree is easy to achieve from a cutting if you have access to a mature tree. Native to China, the mimosa is found in the states in USDA Hardiness Zones 6 to 11. Though beautiful, this tree can get out of hand if left to itself. Keep it contained and enjoy the beautiful flowers when the tree blooms each summer.
Cut a 24 inch branch in the spring when the first buds are beginning to form on the tree. Make the cut at a 45-degree angle using a pair of sharp clean shears.
Fill a bucket or flower pot with clean damp sand. A 5-gallon bucket works well or you can use a 12- to 15-inch plastic planting pot.
Roll the cut end of the mimosa branch in hormone rooting powder. You can find hormone rooting powder at most home and garden stores. Look for one that is formulated for soft wood.
Stick the end of the branch cutting that has been rolled in the rooting powder 6 to 8 inches into the sand.
Place the open end of a clear plastic bag over the rim of the bucket and fasten it using a string or large rubber band to create a moist greenhouse effect for the cutting.
Place the cutting in an area that gets partial sun and has a consistent temperature that is between 60 and 75 degrees F. Keep the sand damp to the touch but not saturated.
Transplant the cutting into a planting pot filled with potting soil or into the ground when it has taken root. You will notice small green shoots when successful rooting has taken place. This will take anywhere from 25 to 80 days.