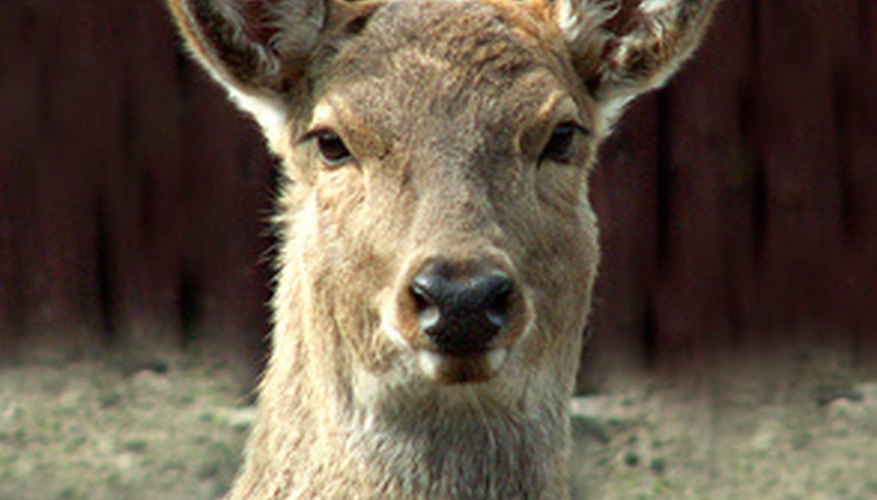 Gardeners usually see deer as annoying pests rather than gentle forest creatures. Deer love to munch on your hard work, from vegetables to flowers to other green vegetation. But like all animals, deer do not like certain plants, so they will stay away from an area or garden that contains these varieties. Although the aversion to plants varies with seasons and region, planting some of these such as rosemary or helianthus will help deter deer from your garden.
Rosemary
Rosemary (Rosmarinus officinalis) is an evergreen woody herb that deer detest. An added bonus is that it is attractive as a landscaping or border plant and can also supply fresh herbs for cooking or making oils. It grows as an upright shrub or a climbing, flowering low-growing plant. This plant thrives in hot, dry locations with direct sun and good drainage. Rosemary has dark green, long, narrow leaves that grow thickly, and the blooming varieties have blue to lavender flowers throughout winter. These plants don't need a lot of rich soil, but add phosphorous to soils that are very sandy or full of clay. Plant rosemary as a border around produce the deer in your area eat or as a thick shrub border that surrounds the entire landscape.
Helianthus
Helianthus (angustifolius) also known as the swamp sunflower, is in the sunflower family. It has emerald green foliage, narrow leaves and thick stems. Healianthus are ideal border flowers, growing in irrigated trenches with lush blooms through spring and summer and reaching heights of 5 feet tall. These must be watered deeply once a week and fertilized each fall season.
Ruta Graveolens
Ruta graveolens (also known as rue) is a rare evergreen garden plant that works wonders at repelling deer. With a bluish-green hue, the leaves look like ferns and have a soft texture and delicate fragrance. Rue has a number of hybrids, but all varieties have a similar appearance and a height of over 2 feet. Rue is ideal for colder climates, since the plant thrives in full sun and in freezing temperatures. Rue is drought-tolerant and flourishes when the soil is enriched with compost. These plants only need water about once a month, depending on your climate. This plant can help protect smaller produce gardens or precious flowers.