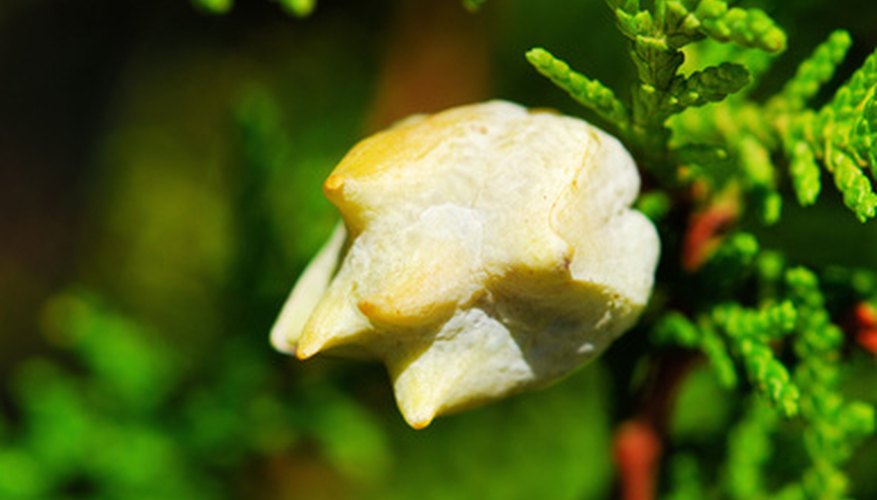 The Leyland cypress is a statuesque evergreen that can reach mature heights of more than 50 feet. This rapidly growing tree grows at a rate of 4 feet each year, developing a dense, pyramidal shape. The tree's feathery foliage takes on a dark, bluish-green color as it matures. The Leyland cypress is a highly drought-tolerant tree and adapts to moist soil environments.
Select a planting location for the Leyland cypress tree. Choose a well-drained location that receives at least eight hours of full sunlight each day for best growth results. Ensure that the location will provide ample room for the full-sized, mature Leyland cypress.
Plant trees approximately 20 to 25 feet apart for individual growth. Position the Leyland cypress trees about 10 to 12 feet apart for privacy screens.
Prepare the Leyland cypress tree for planting. Remove the tree from its binding and gently loosen the root system. Soak the cypress tree for 12 hours prior to planting.
Remove the tree from the water and gently loosen the roots of the system. Dig a hole for the Leyland cypress tree that is slightly larger than the width and depth of the root system. Position the Leyland cypress tree in the center of the hole and fill the hole with the removed soil.
Stake the young tree to provide stability during heavy winds and rains. Secure the stake against the tree with wire ties and loosen the ties every three months to prevent injury. Remove the stake and wire ties after the tree is well-established, usually 6 to 12 months.
Irrigate the newly planted Leyland to promote good establishment. Water the newly planted tree one to two times each week during excessively hot periods. Irrigate established trees deeply but infrequently to a rate of one to two times each month.
Protect the soil's moisture levels by applying mulch around the diameter of the tree. Use an organic mulch to apply a 2- to 4-inch layer of mulch under the canopy of the tree.
Things You Will Need
Mulch

Shovel

Stake

Water

Wire ties