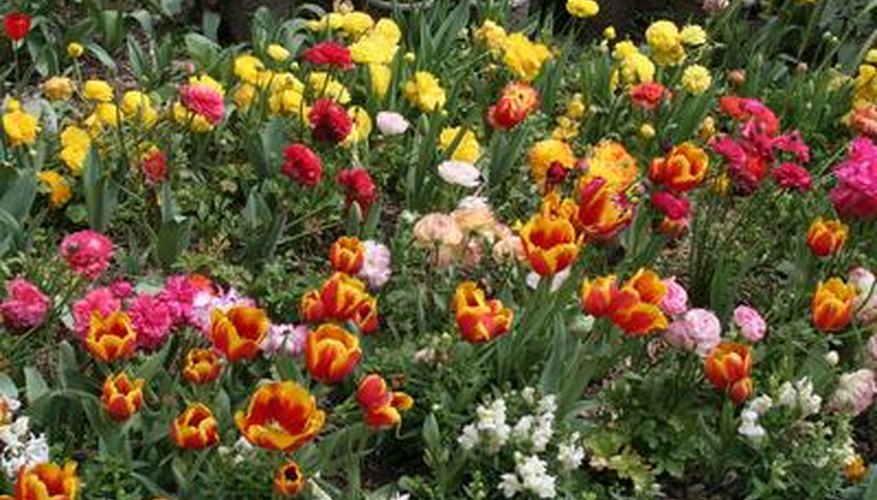 Starting a new flower garden may seem overwhelming if the proposed garden site is covered in weeds or grass. Removing all this plant matter, and ensuring it doesn't grow back from shed seeds, is not as difficult as it sounds if done correctly. Solarizing the proposed garden site kills the existing plants and much of the seeds by heating the area. Readily available black, plastic sheeting handles the process with a minimum of work or preparation.
Remove any rocks, shrubs and branches from the proposed garden site. These elevate the plastic above the soil and may inhibit solarization.
Water the area thoroughly to a soil depth of about 12 inches. Moist soil heats more readily than dry soil.
Lay black, plastic sheeting over the garden bed in late summer or fall, anchoring the edges down with rocks or soil. Leave the plastic in place over the winter so the sod and weeds are killed.
Remove the plastic in spring. Dig up the sod and weeds or till them into the top 12 inches of soil to in order to add organic matter to the garden bed.
Solarize the bed during the hottest part of summer to kill the last of the weed seeds in the proposed garden. During the solarization process, use clear plastic in locations with four or more weeks of temperatures over 90 degrees F. Use black plastic in areas with mild temperatures that must be solarized over a two or three month period in summer. Anchor the edges down with rocks or soil.
Remove the plastic after the solarization period is over. Plant in the bed as desired.