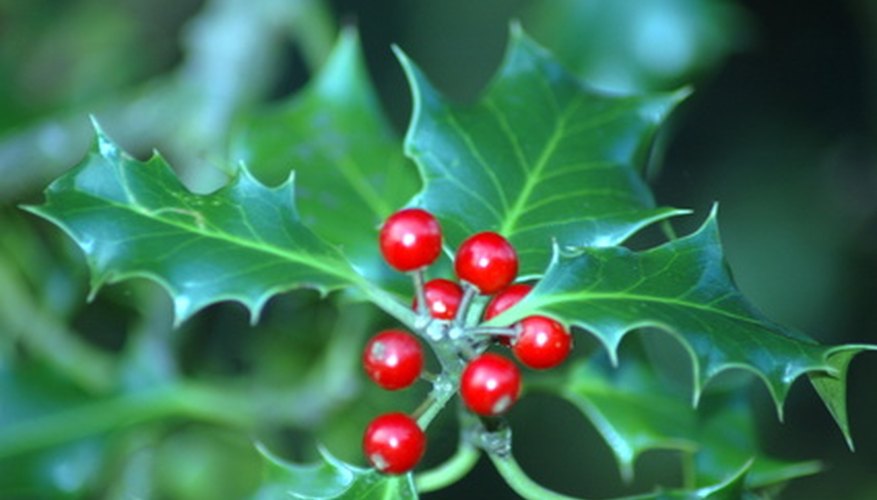 Mature holly or Ilex shrubs 4 feet high can be excavated and lifted for transplanting to a new location. According to North Dakota State University, fall before the first frost and spring before new growth appears are the two best times to dig up and move your holly shrub. The preparation for such a move should begin roughly a season before the move takes place to ensure the greatest chance of survival and a speedy recovery when the transplant is complete.
Root prune your holly shrub the season before you intend to dig it up. Allow 12 inches out from the trunk for every inch of trunk diameter. A holly with a 2-inch diameter trunk should be root pruned in with a 24-inch diameter. Drive the blade straight down in a circle around the shrub. Drive the shovel or spade down into the soil to the hilt as far as it will go.
Keep the holly well hydrated with constantly moist soil and feed your holly regularly until the move takes place. Prune any dead or diseased branches and mulch around the base of the plant with shredded bark or leaf mold to insulate the roots, and keep moisture in the soil and competitive weeds at bay.
Wrap the shrub foliage snugly in one or two layers of burlap and secure with twine to protect the branches from damage and to lessen any damage the leaf spines can do when working around the holly.
Drive the shovel down along the root pruning line to refresh the opening. Dig around the outside of the root pruning line until you can get several feet down under the root mass of the holly. Keep digging down vertically until you are clear of large roots. Some small roots at the bottom of the root ball will need to be sacrificed.