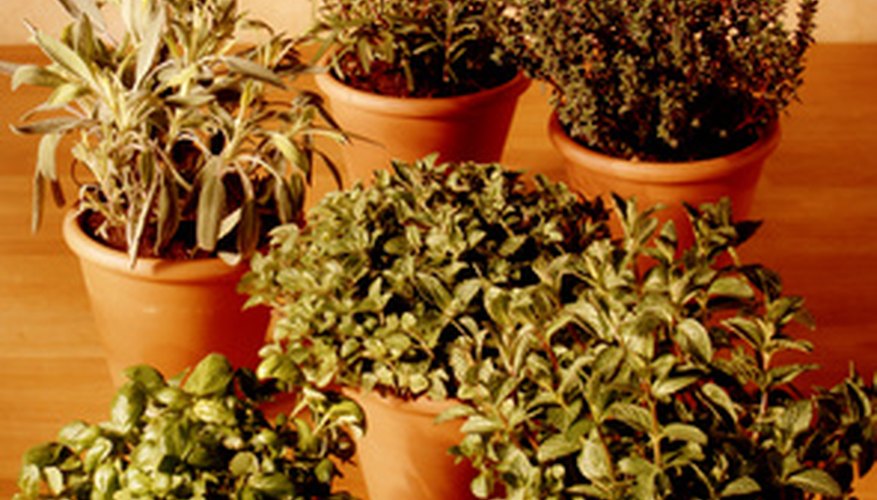 When starting out on an entrepreneurial endeavor to sell herbs, don't limit yourself to one area. Plan to offer fresh, dried and potted herbs. Create an engaging name for your company and set up a booth that looks professional, including packaging, price lists and business cards. Start selling your herbs at farmers markets, Saturday markets and festivals in and around your town. Have a visible sign that tells you sell wholesale, as well as, retail. Eventually, someone in the restaurant business will request a price list. Have it ready and on hand. In the meantime, approach local garden shops and nurseries with your plants.
Keep track of all your expenses and figure out how much it costs you to grow each plant. You can't make a profit if you don't know what it is costing you. Consider how much time you have to spend on this project and grow the amount accordingly. It's easy to start out too large and get overwhelmed. After your first year, you will know if you need to expand.
Choose some basic herb seeds, such as sweet basil, rosemary, thyme, sage, parsley and chives. Also, choose some more obscure herb seeds, such as cinnamon basil, lemon basil, sorrel, sweet cicely and tarragon. Have recipes using these herbs printed out to accompany your sales.
Start all of your herbs in seed trays (found in garden centers) several weeks before the last frost in your location. Fill them with potting soil. Plant each type of seed as directed by the packing information. Each one will have a different planting depth.
Cover the seed with soil after it is dropped into the depth of soil required. Label each tray as to the type of herb it contains.
Spray water onto the soil, just to moisten it. Do not make a sopping mess with too much water. Cover the tray with a sheet of clear kitchen plastic wrap.
Place the seed trays by a sunny window, in a warm room. Spray them with water to keep the soil moist, as needed. When the seeds germinate (green sprouts above the soil), remove the plastic wrap. Eventually, as your business grows, you might require a greenhouse.
Plant some of the seedlings in a garden plot, after the last frost has passed. These will be used for your fresh and dried herbs. Plant others in small containers. These will be your potted herbs to sell.
Contact local agencies in charge of farmers markets, Saturday markets and festivals. Pay the fees and get ready for your first herb sale. Listen to customers. They might ask for certain herbs. You can offer these the next year.
Things You Will Need
Herb seeds

Seed trays

Potting soil

Marker

Water bottle sprayer

Plastic wrap