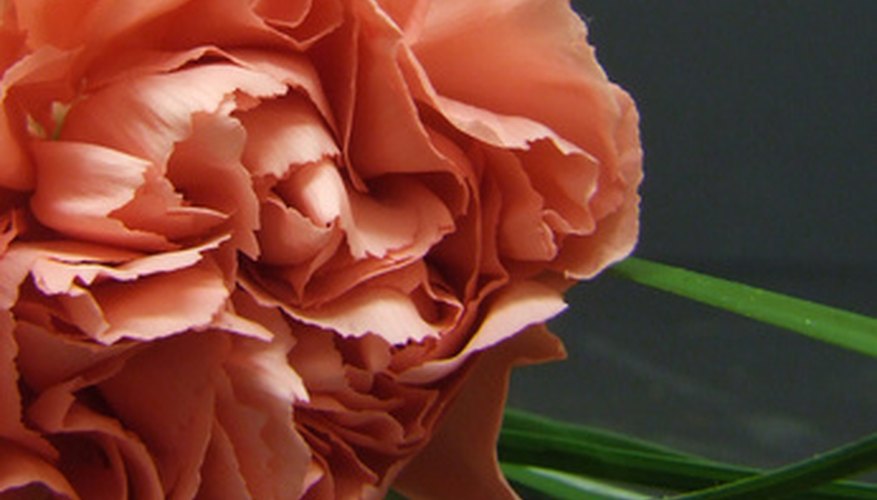 Carnations are full, round-shaped flowers. Because of their strong shape and abundant petals they hold up well in cut flower arrangements. They are reasonably easy to grow, and therefore you can often find carnations at low prices. Carnations' flower heads are also very easy to dye. This makes them particularly useful for themed events where a particular flower color is desired.
Select white carnations at your local grocer or flower mart. You can use colored carnations but the dye results will be different and it may be more difficult to achieve the color you want. Cut the stems at an angle and remove any foliage in the bottom 3 inches of the stem.
Dissolve 1 tsp. of sugar and 1 oz. of food coloring into 1 pint of warm water inside your glass jar. You can mix food colors in several different jars to find just the color you want.
Place the carnations in the dye jars. Make sure the carnations can stand up easily so that there is minimal stress on the stems. You don't want a heavy flower head to bend the stem at the lip of the jar as this will cut off the flow of the dye up the stem. Allow the flowers to stay in the dye from two to 24 hours until the flower head is the color you want.
Wash the dyed stems under running water and cut the stems at a 45-degree angle before placing the dyed flowers in a vase or using them in a flower arrangement. Dry the stems with a paper towel to make them easier to handle during arranging.