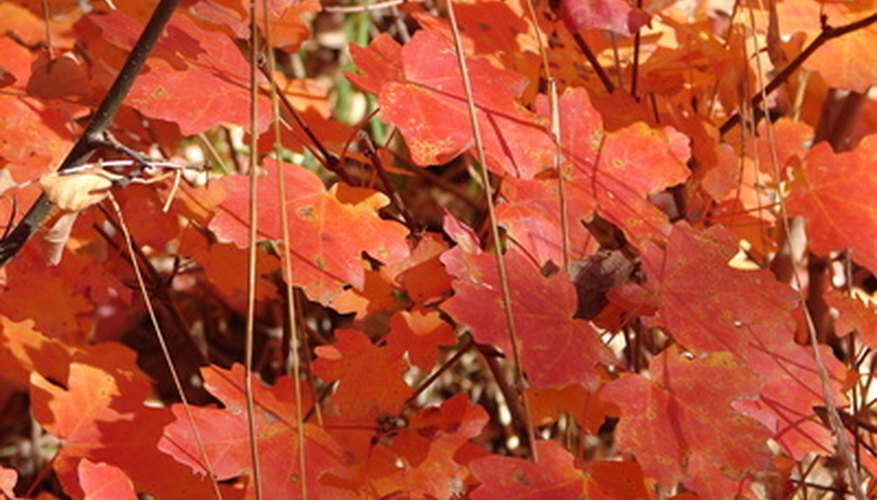 The brightest days on Nebraska's prairies are richer for the shade of towering trees. Adding a shade tree to your Nebraska yard has financial benefits as well. Doing so can make a significant dent in your summer cooling bills, says Justin Evertson of the Nebraska Statewide Arboretum. Nebraska's shade trees, however, must handle winter's cold as well as summer's heat. Temperatures plunge as low as -30 degrees F in the northwest part of the Cornhusker State. Several trees meet the challenge while providing fall color.
Bur Oak
A majestic tree, bur oak (Quercus macrocarpa) normally stands 60 to 80 feet high and wide. It has large, lobed, leathery green leaves that become yellow in autumn. Fringed acorns, the largest of any U.S. oak, are up to 1.5 inches in diameter. They're an important food for many wildlife species, says the Missouri Botanical Garden. Bur oak's insignificant, pale green flower clusters appear in the spring just as the trees are leafing out.
Plant bur oak in full sun where its spreading branches will have room. Although tolerant of drought and a range of soils, it's happiest in moist, well-drained loam. Bur oak takes up to 35 years to produce acorns. The Lady Bird Johnson Wildflower Center cautions that its young leaves and acorns are mildly toxic if ingested.
Sugar Maple
Sugar maple (Acer saccharum), Canada's national tree, reaches to 150 feet in the wild. Nebraska's sugar maples, says the Lady Bird Johnson Wildflower Center, grow in moist bottomlands and on wooded hillsides. Bark on their erect trunks roughens as it ages. Green spring and summer leaves become dazzling shades of yellow, orange and scarlet in autumn, when sugar maple is at its ornamental peak.
Yellow-green April flowers are insignificant. Winged seedpods--samaras--follow the flowers. Sugar maple's sap, collected in early spring, boils down to make maple syrup and sugar. Furniture, flooring and veneer makers prize the tree's wood. Plant it in a sunny to shady location with rich, moist well-drained soil. Other plants struggle in the tree's dense shade.
Honey Locust
Honey locust (Gleditsia triacanthos) is a medium to large tree that grows wild in Nebraska's bottomlands, damp woods and dry uplands. Reaching 30 to 75 feet high and wide, its lacy foliage provides broken shade. Greenish-yellow leaves become yellow in autumn. Small yellow flowers bloom in May and June. More interesting are reddish-green curling seedpods that ripen to maroon. Their honey flavor attracts wildlife.
Wild trees have dangerously sharp spines along their trunks. Smooth-trunked cultivars are available for home gardens. Plant rapidly growing honey locust in part shade. It likes well-drained, moist, slightly acidic to alkaline loam or clay. Other plants, says the Lady Bird Johnson Wildflower Center, will grow in its filtered shade.